5 kilometers for Pi Day
The 33 participants of the 5 kilometer Pi Fun Run/Walk line up at the starting line, ready for the event to officially start. Event coordinator Barbara Read gives the classic "three, two, one, go," and they are off, ready to raise some money for Special Olympics Illinois. 
Huntley has never done an event like this before, and Read had always wanted to do something special on Pi Day. 
"As crazy as it sounds, I have always wanted to do a Pi 5k on Pi Day," Read said. 
People who pre-registered were given the option of a free pie; apple, berry mixture, or a gluten free option of either pie with each having the pi symbol carved on top of it. These pies were sold by Desserts by Corinna for $7 each with all proceeds going to Special Olympics Illinois. Along with the extra pies being sold, she was also selling some of her baked goods.
Other than the 5 kilometer run itself, there were other things to do if you did not want to participate. They had a train in the Huntley Square offering free rides to participants for $1 per person per ride. The Morkes Chocolate tent was also selling roasted nuts and invited people inside for some warm coffee or cocoa during the windy weather. 
The Special Olympics have always been dear to Read, especially during these times. 
"Due to COVID-19 we were unable to have [our Special Olympics event] last year," Read said. "They aren't doing the Special Olympic events this year, but they still need to do fundraising." 
The event raised over $700 for Special Olympics Illinois from all of the registrations, pie sales, and even from donations by some kind individuals. 
Even with COVID-19 still strong, Read wanted to make sure that not only Special Olympics was benefiting from this event. 
"I wanted to bring more people down to the square to support our businesses down there. Several of the businesses contributed coupons or gift certificates to participants who did the run," Read said. 
This event was a huge success for Special Olympics Illinois, and Huntley will be considering doing something like this again.
About the staffer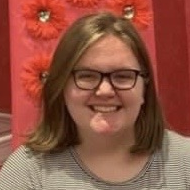 Megan Curry, Staff Writer
Megan Curry is a sophomore and in her first year as a staff writer on The Voice. Megan is the only kid in the whole school who is in the organization, Job's Daughters. In her free time, Megan enjoys binging shows and movies, such as Avatar the Last Airbender and Harry Potter.