Huntley baseball from inside the clubhouse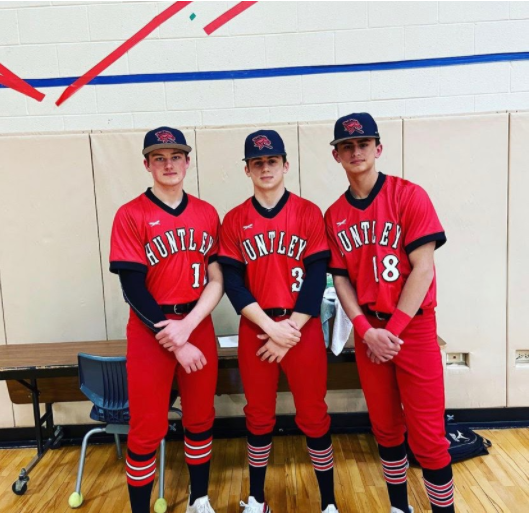 The Raiders Baseball Team is looking to make another run at the state title. Huntley came into the season ranked 6th statewide by Prep Baseball Report and has since started the season 4-0, including a 19-0 rout of Streamwood. The Raider's Tyler Castro provides a unique perspective inside the team's goals and culture.
With a long standing culture of success Huntley once again has high expectations coming into the 2021 season, being only 3 years removed from a second place finish in 2018. Castro reflects on the expectations within the clubhouse.
"Expectations are always to win as many games as possible. Missing out on a season last year makes us even more excited and ready to go out and win games. I think we have the potential to make a deep run into the playoffs with all of the talent we have," Castro said.
Huntley's talent is reflected in their run differential of over 37, mind blowing considering the Raiders have only played 4 games.
Huntley practices a thorough approach to preparation for their competition, gathering reports about opposing pitchers' arsenals. Scouting reports for hitter tendencies are also studied, evidently being effective as the Huntley pitching staff has only allowed 5 runs this season. The Raiders are also consistent with their preparation.
"We prepare hard for every game and do whatever we can to be ready for what we're going to see," Castro said.
A massive factor of success in sports is a team's culture. This trend holds true with Huntley.
"My favorite part about the team culture is how much we like each other, we all look out for each other and have created a brotherhood," Castro said.
The Raider culture has aided Huntley throughout the years of dominant seasons and playoff runs, as well as nurturing talent to levels it could not reach in the culture's absence. Castro attributes much of the culture to Coach Jakubowski.
"He sets the mindset and goals and the team buys in," Castro said.
One of the most vital attributes of the culture is the brotherhood of Huntley Baseball, as it has created memories and relationships that go beyond the field and will be lifelong.
Huntley baseball looks to continue their dominant run to the state title April 22 at 5:00 p.m. when they visit Hononegah.