Journalism team sweeps state
On April 29 in the Raider Aid room, members of The Voice, Harmony Yearbook, and Raider Nation News held their breath and stared at a Microsoft Teams screen on the wall.
"If Stevenson gets second, we won state," newspaper advisor Dennis Brown said.
A moment later, the publication students gasped: Stevenson High School, which had been on HHS' heels in nearly all categories, placed second with 31 points. Murmurs erupted but fell with a hush as Assistant Executive Director Matt Troha read out the name of the 2021 Illinois High School Association Journalism State Champions.
"With 36 points, Huntley High School!"
It was official: for the second time in Huntley High School history, a team won state. While the publications boast three second place and two third place IHSA Journalism victories, the team had never gotten first.
Points were awarded when students placed in the top six of their event, earning up to six points for their school. HHS students placed in 10 of the 18 categories with three claiming the state champion title for their event.
In the past 15 years of the competition, only nine HHS students had ever won individual titles for journalism. Now, senior Sydney Laput and juniors Sara Gebka and myself are the 2021 state champions of Photo Story Telling, Editorial Cartooning, and Copy Editing, respectively.
Laput, a nationally recognized photographer, had to illustrate a day in the life of a person for the photography event and chose to take photos of her younger sister swimming, playing with their dog, and practicing violin.
"I was shocked about winning first, but I'm more so proud of everyone on the team whether they placed or not because we couldn't have done this without everyone," Laput said. "This was an amazing way to end my high school career, and I want to thank everyone who is a part of it in both yearbook and newspaper whether they were on the team or not."
Also surprised by the results, Gebka was tasked with designing a cartoon for the topic given in the Editorial Writing event: public displays of affection. Her cartoon featured students being reprimanded for holding hands or kissing on school grounds.
"I didn't really expect to win. I'm glad that I was able to participate in IHSA and score my team some points while doing it," Gebka said. "Everyone did great, and it was amazing to just work as a team to get first in both sectionals and state."
At sectionals, the team won with 79 points, beating Kaneland High School by 18 and qualifying 15 students for state.
In writing events, juniors Amelia Pozniak and Natalie VonderHeide placed fifth in Editorial Writing and Feature Writing, respectively.
In design categories, junior Maggie Kirwin placed third in Info Graphics and junior Alex Hartleb placed fifth in Newspaper Design. 2019 State Champion and senior Nick Pratt placed second in Yearbook Layout: Double-Page Spread.
"Placing again at state is absolutely surreal to me," Pratt said. "Placing at state is incredibly hard, and the fact I did it twice is an incredible feeling."
There was great success in the video-based events as well with juniors Jake Habel and Paige DeSimone placing fifth in the partner event Video News and junior Kate Alvarado placing sixth in Broadcast News.
After a night of making history, the publications' members celebrated at Dairy Mart (sprinkles are for winners after all) and made plans for a photoshoot once the trophies come. You can expect to see the shining display case in the commons filled to the brim next year.
While the trophies and titles are exciting and well-earned, the big takeaway has been the celebration of teamwork during such a difficult time.
"I am so happy that I got to do it with such an excellent team," Pratt said. "I'm so proud to be able to call myself a pubs alum once I walk across that stage."
About the staffer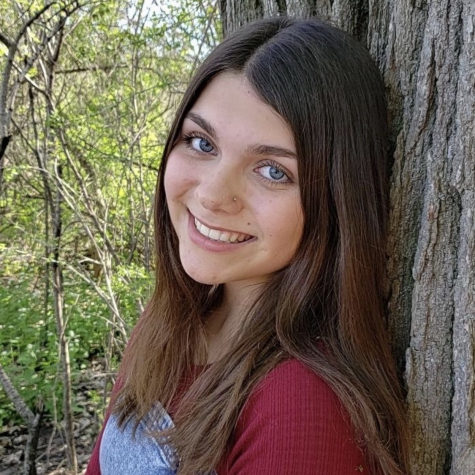 Ellie Armstrong, Editor in Chief
Ellie Armstrong is the co-Editor-in-Chief of The Voice in her second year on staff. She runs her own baking business called Ellie Rose Desserts. In her free time, Ellie likes to hike, obsess over Broadway musicals, and watch Marvel and Disney movies.