Teacher Appreciation Week: gratitude for our mentors
Teacher Appreciation Week is a week where students show support for their teachers and how thankful they are for them.
Students may bring small gifts in for them or verbally say how grateful they are.
By having a week to honor the teachers for their hard work, it gives them an opportunity to feel honored in a way that makes them feel very appreciated during difficult times.
Some students may not bring anything for the teacher, but it is okay if they because they can still show their appreciation by telling the teacher something nice about them.
"Before COVID I would make teachers little desserts. Since COVID struck I gave them things they can use on their devices like camera blockers, and cord protectors, and a gift card," junior Teagan Thompson said.
Students giving their teachers gifts for Teacher Appreciation shows their generosity for their teaching and themselves. Teachers deserve to have a week for themselves because they work really hard teaching us new things. Some students tell their teachers what they like about them.
"I like that my teachers are fun, and they understand the difficulties of being a remote learner," Thompson said.
These last two years have been a struggle for many teachers because at the end of last year we had finished off remote learning. Also, this year we did remote learning at the beginning of the year, and then did hybrid towards the end of the year.
"Since I am a remote student, I just want to say that I like that my teachers are pretty patient with me," junior Alyssa Siebert said.
Remote learning and hybrid learning have been hard for teachers to do because they have students on zoom and they have students in class. The teachers deserve the credit for working with the students online and the kids in the class.
For this teacher appreciation week, give your teachers a nice compliment about them and a positive attitude. Some students get pretty festive with the teacher appreciation gifts, which is a good way for them to show their gratitude towards their teachers.
Every May there is a week for teachers to be celebrated and appreciated for the things they do for us. They are hard workers and they are willing to work very hard for us students. We all should appreciate the things they do for us. Thank you to all the teachers!
About the staffer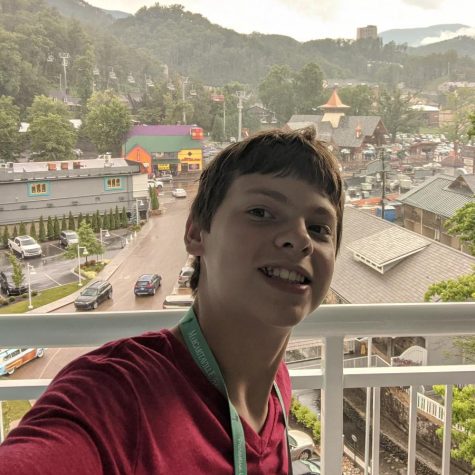 Austin Zenaty, Staff Writer
Austin Zenaty is a first year staffer. He's had four hip surgeries over the course of his life. Pretty soon he'll have another because he has a growth plate in. In his free time, Austin likes to go shopping, be outside, write, and paint.