Raiders baseball beats Jacobs in close game
Senior pitcher, Eric Lin, had a positive mindset going into Friday night's game against Jacobs. 
"I knew it was going to be a loud, tough game. So I came in, tried throwing my hardest to get them all out. It didn't really work out, but I eventually found it through the rest of the game. When I came out my teammates had my back and helped me out," Lin said. 
Unfortunately, the raiders were off to a rough start. Lin had a hit by pitch followed by a walk. Then, a throwing error to second allowed the first run of the game in. 
"I was like well this sucks, so then I tried coming back and only got one run out if it, which is good. I was just upset with myself and tried getting the next one," Lin said. 
Eventually, Lin gathered himself and struck out the next two batters, followed by a fly out to center. Lin was pitching consistently in the upper 80's in the game against Jacobs, and popped out 90 miles per hour. 
Sophomore Brayden Bakes doubled in the second inning. A single by Harout Meyer to left field allowed Bakes to score, tying the game up 1-1. 
At the top of the third, Jacobs retook the lead with a home run to left field. Throughout all the craziness of the game against the Eagles, the team was able to stay calm and composed. 
"We try not to get too emotional. In baseball there are some highs and some lows. These guys have been playing baseball since they were five, so they get that and they understand that," coach Andy Jakubowski said. "They know that we are going to look for certain people to step up in certain situations and to be ready, and our guys definitely were today."
From the cohesiveness on the field to the cheers in the dugout, this team is undeniably close. As every player comes off the field, they get high fives, fist bumps and pats on the back from their teammates. 
In the seventh inning, Jacobs had another run, which led them to a 3-1 lead against the Raiders. 
For the Raiders, Bakes led off the inning with an infield hit. This was quickly followed by a walk by Meyer, which was followed by a bunt by Chase Jetel to load the bases with no outs. Ryan Bakes missed a home run by inches for a walk off. To finish up the seventh inning, Tyler Castro hit a bouncing ball over the second baseman's head, allowing the tie to come in 3-3.
At the top of the eighth, the Eagles scored a go ahead run. The first three batters for the Raiders were on base. The bases were loaded with no outs. Junior Josh Good hit a walk off single to right field to score the two winning runs. 
"It feels good to take care of [Jacobs] after all the talking. It feels so good to be on top. It came to the last at bat and it was just a good fight. We always find ways to come out on top," Good said.
The now 23-2 Raiders are hoping to take this momentum into their game on Monday against the Eagles. 
About the staffer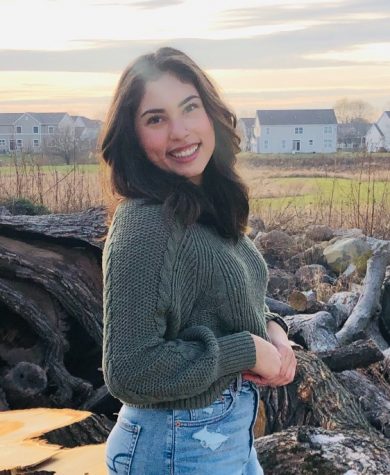 Luma Acevedo, Staff Writer
Luma Acevedo is a first year staff writer. She plays club and school volleyball. In her free time, she enjoys working out and reading.