Students walk out to protest sexual harassment
Warm, thick air surrounded the students and escalated their nerves. Many looked around to see who showed up and who would be the first to speak. While most of the students were strangers to each other or simply faces they passed in the halls every day, they quickly found a sense of comfort. The same comfort they felt was lacking within the school's walls, an issue they hoped to resolve. 
At the sound of the third period bell, the group of students fell silent and watched as seniors Joe Cortez and Adi Anderson stepped up in front of the crowd. 
During third period on Tuesday, Sept. 7, over 30 Huntley High School students gathered outside of the main entrance in a walkout, taking a stand against sexual harassment. 
The event was organized by Cortez and Anderson because they, among other students, feel not enough is being done to support victims of sexual harassment or to bring more awareness of it at the school. 
"I wanted to start a movement to let them [sexual harassment victims] know and help them understand that there are people to go to if they're scared or don't know what to do," Cortez said. "There's people that can comfort them and help them."
Being surrounded by people who understand and support each other made many of the students comfortable enough to speak of their own experiences with sexual harassment. 
From a show of hands, the 30 plus students all revealed that they had experienced or know someone who had experienced sexual harassment in their lives. 
For sophomore Simon Solomon, his experiences came from helping some of his friends who have dealt with sexual harassment. He said that working to solve this issue meant simply "doing what's right," and that the school should be focusing on bringing "more awareness" to sexual harassment. 
Junior Makenzie Blake agreed with Soloman, adding that the dress code worsens the issue by blaming sexual harassment on the person's clothing choice. According to Blake, the dress code needs to be changed. 
"We shouldn't be punished for their decisions," Blake said. 
As several students stepped up to share their stories, they found themselves repeating the same phrases that people said to them after being harassed: "boys will be boys" and "you could've prevented it."
"The fact that the world, much less the school, is normalizing that behavior is wrong," senior Hayley Massaro said. 
Afraid to go to school some days, Massaro said the school needs to focus more on this issue and suggests having safe spaces and more counselors for the students. 
Whether Huntley High School changes the dress code, creates safe spaces for students, or involves specialized counselors, the students participating in the walkout stood up for their belief that something needs to be done and more people need to hear of it. 
After raising their hands to show the relevance of sexual harassment at Huntley High School, the students took in the overwhelming results. A few seconds of silence filled the air and fueled the students with more dedication to fight sexual harassment, one protest at a time.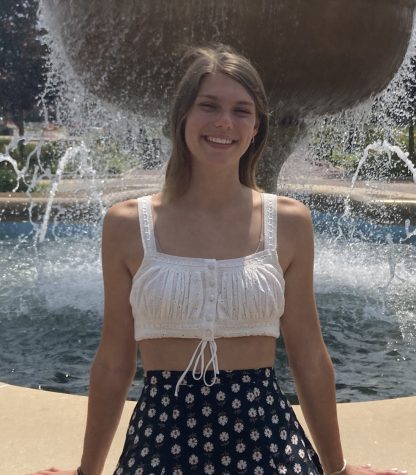 Maggie Armstrong, Floating Editor
Maggie Armstrong is a sophomore and floating editor on The Voice. In her free time, Maggie partakes in ballet, pointe, jazz, and lyrical dance classes. She enjoys reading historical fiction and spending time with family and friends.

Myers-Briggs personality test: ENFJ-T