"After We Fell" makes a comeback in theaters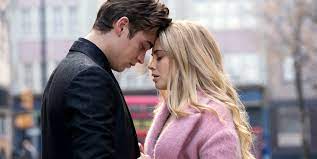 Craving some drama amid the COVID-19 season? How about snippets of a fantasisable romance we all dream to have? If this describes you, allow me to refer a trilogy. 
Almost a year after the second movie, the "After" franchise surprisingly released a third movie, "After We Fell" on Oct. 19. 
Ending with some unanswered questions by the end of the second movie, diehard fans patiently awaited the franchise's next move in terms of possible new novels, new films, etc. Fortunately, their wait was not long.
The third movie begins by showcasing viewers' ever so adored love interest Tessa, played by Joesphine Langford. Although prepared to move to Seattle to turn over a new leaf, the ever so jealous and protective boyfriend Hardin, portrayed by Hero Fiennes Tiffin, stops her in her tracks.
As a menace, Hardin's unpredictable behavior pushes Tessa to the edge creating a turn for the worse in the relationship. 
The situation becomes even more complicated when Tessa's recently deadbeat father returns and shocking revelations about Hardin's family come to light. 
Ultimately, Tessa and Hardin must decide if their love is worth fighting for or if the tough decision to part ways awaits them. 
This R rated film has an approximate runtime of 1 hour and 39 minutes and showcases various well-known faces such as Louise Lombard and even Rob Estes. 
Whereas some may consider the movie a well-done continuation, it may also be seen as repetitive. Additionally, it was pointed out that compared to the previous films, the intimacy between Tess and Hardin was so-called boring and PG-13.
Regardless, viewers have to understand that by casting such an adored actress to portray Tess, younger viewers are likely to take an interest in the film causing the intimacy level to be put on the down-low. Obviously repetition in terms of romance should be expected because it is the premise of the trilogy.
Whether you're a returnee to the films or a newcomer looking for something binge worthy, "After We Fell" will certainly fulfill any sort of craving for drama or romance. 
Check it out at theaters near you; coming soon to Netflix!