Celebrating Thanksgiving "buddies" style
Best Buddies Club hosts a Friendsgiving for the November social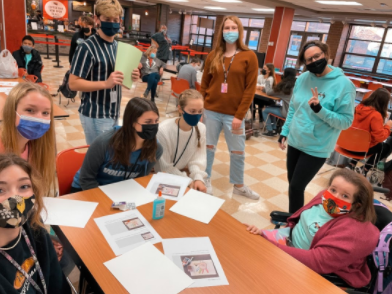 On Nov. 30, the school bell rang, and the Buddies Club members raced to the Passive Commons to have some after-school fun at the Buddies Friendsgiving social. Colorful fall supplies covered the tables as the Buddies took on their creativity.
In honor of the thankful season, the Buddies Club took it into their own hands to bring out the individuality of Huntley High School. The Buddies were eager to make some fun fall crafts after a week-long break.
"Due to safety protocols with the pandemic, we did more of a craft rotation Friendsgiving social, rather than food-related. We got various levels of crafts. They paired up with their families to do them, and we had some fun," said Shannon Vanek, Special Education teacher and Buddies Club advisor.
The students took on crafts like hand turkeys, watercolor crafts, friendship bracelets, and more. It gave the Buddies a chance to collaborate with their peers and bring on the gratitude.
"I definitely think the Buddies enjoyed it. We had a ton of colorful paper and different supplies to make the crafts with, and it was just so much fun. They definitely got to show their creative sides," senior Emily Domek said. 
Without the struggle of a computer screen in the way, the Buddies Club finally got to have an in-person social and got to fully collaborate with each other.
"We all have a lot to be thankful for this year like how we don't have to do our socials over Zoom. It was fun to interact with all the Buddies and appreciate what we are thankful for while doing all these fun crafts," senior Allison Braaten said.
The social itself came out extremely successful as all the students had bright smiles on their faces while pasting and cutting out their fall goodies. The vibrant smiles and laughs from this group of students create such a bright atmosphere in the high school.
"It was a little bit of a smaller number of students attending, but it was also an equal match. In the pandemic, we got some pretty high numbers, which is awesome to say as a club, but sometimes it can be sensory overload. I think this kept it a little more calm and better for everyone," Vanek said.
Even with a smaller group after the past year, the club has found ways to promote the school's culture as a whole. They help influence the desired environment that the school craves through the connectedness of students.
This fall-themed social brought students closer together and helped the high school see the true meaning of thankfulness and the values of the school.