Hard work beats talent
Marko Mihalopoulos on his passion for wrestling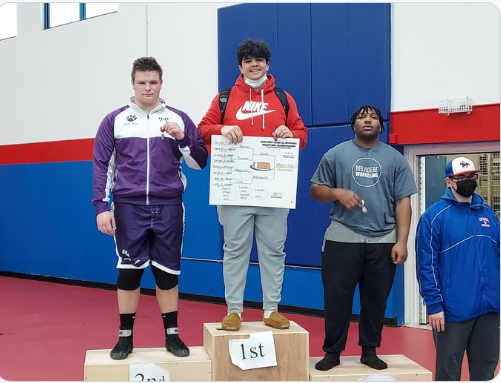 As the long-awaited final bell of the day sounds, Marko Mihalopoulos darts from his Current Issues class to the field house locker room. He opens his locker to put on his pads and cleats, or to lace up his white and gold wrestling shoes. After getting changed he sets off towards the field or the matroom, ready to work harder than yesterday. As a member of both the varsity football and wrestling teams; blood, sweat and tears are as common as anything else for Mihalopoulos.
Mihalopoulos has dedicated his life to wrestling since age 12, working to become a two-time IESA state qualifier, and a one time IHSA state qualifier. For Marko, wrestling is not just a hobby, but a lifestyle. 
"Honestly, after becoming a state qualifier, doors have been opened and I have been motivated to work harder than ever," Mihalopoulos said.
Mihalopoulos's sophomore season was by far his best, putting up a record of 31-20 in a tough weight class, facing some of the top wrestlers in the nation. From an outside perspective, the work that goes into becoming a state qualifier is not seen as much. For Marko, it has been a long time coming.
"Staying after practice, watching film, going hard in the weight room, and perfecting technique got me to where I am," Mihalopoulos said.
From a young age, wrestling has stuck with Mihalopoulos, pushing him to become better every single day. Camps, tournaments, duals, and workouts both during the season and over the offseason has allowed Marko to mold himself into one of the most promising prospects of the 2024 class. 
"Seven months in the gym getting after it every single day, out of state tournaments, and pushing myself in football have gotten me prepared for the season," Mihalopoulos said.
Wrestling, however, is not the only sport Mihalopulos is involved in. As a junior, Mihalopulos decided to start playing football to work on his physicality on the mat. It has proven to be the right decision for him, as he has fought for a spot on the varsity team, joining elite company. 
"Marko has leveled up this offseason, working on his ferocity and physicality, hopefully that pays off for the [wrestling] season," Petros Mihalopoulos said.
After pushing himself to his limits at practice, Mihalopoulos makes time for a two hour long workout after practice every single day. This magnitude of work ethic is what separates Marko from the rest of the pack, and is what allows him to hold himself responsible for his future. 
"Seeing him work day in and day out on a consistent basis pushes the pace for everyone around him, not just himself," senior Adam Pena said.
As the football season comes to an end, wrestling will be picking up in early November. The work that Mihalopoulos has put in over the past year will translate to his success on the mat as he hopes to become a state champion in the next two seasons. For as long as he can remember, it has been all gas, no brakes for Marko Mihalopoulos.