How she juggles it all
Alyssa McQueen is a student athlete who contributes to Huntley athletics, clubs and continues to do her best at school.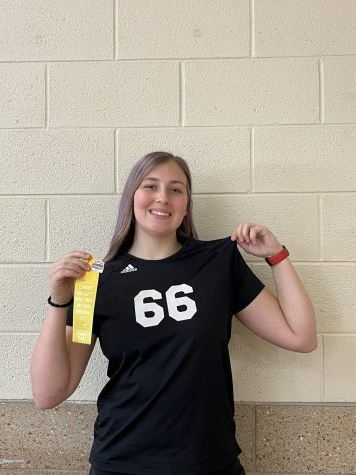 Many students start off their day by waking up early to proceed to arrive at school. While some students get to return home after long hours at school, several students continue to be occupied with a variety of clubs and sports. Many are forced to learn how to manage school with a social life, clubs, and being a student athlete. These come with sacrifice and many learning curves.
Sophomore Alyssa McQueen, who is involved in track, volleyball, and Harmony yearbook, believes it is an important part of high school to stay involved.
"I found that I am a better student mentally and physically because of doing sports. I'm more engaged, And I definitely have more discipline to get my work done," McQueen said.
While McQueen loves staying involved around the school she is sometimes faced with making difficult choices. She really understands the importance of managing her school work and a social life because of her involvement.
"It's difficult to juggle everything because you definitely have those days where I wish I could do this with my friends but I have this or I have something important that I can't miss but once you get the hang of managing everything it gets easier," McQueen said.
Although McQueen has expressed that sometimes it can be difficult to be involved in so much, her friends have recognized her great time management and responsibility.
"I believe she's great at managing everything and if has a conflict she just kind of decides what's more important, and if it's not as important she'll go and work on something that meets her importance," sophomore Ella Gallagher said.
Just like in sports she is in the classroom, McQueen is a student who goes above Their teachers expectations allowing her to strive to succeed and do her best.
"Alyssa is very hardworking. She's very dedicated, so she goes above and beyond often in the classroom in regards to her own work," the yearbook teacher Lauren Teeter said. "She gets her work done early; she always offers help to anyone who needs it, which I think stands out." 
McQueen will remain to push herself to stay involved around school. She has made it aware that she is interested in working hard to receive a better position in the Harmony staff.
"Currently, Alyssa is a second-year staffer and I know she has expressed interest in applying to be a design editor for next year. She hasn't gotten through the interview process just yet, but I know she's interested in expanding her involvement with the yearbook," Teeter said.
McQueen conveys that the more things you are involved in makes it easier to get acclimated to high school. She also establishes how being engaged in more activities can get you to grasp the culture of Huntley.
"You never really realize how close you are to the students, staff, and the culture of Huntley when you're not involved, but I especially notice with sports because you are able to help represent you and your school's culture," McQueen said.
Being a high school student comes with many different sacrifices and responsibilities, especially if you are involved in sports and clubs, but sometimes it's worth it to get closer to the high school's culture.