Jazzed to visit NIU
Sophomore Grace Comeaux received a scholarship to visit the NIU Combo Day.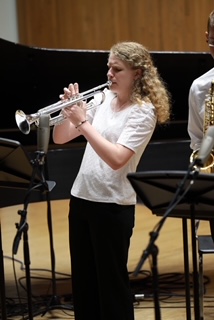 Performing with some of the best musicians in the area, visiting Northern Illinois University's Music Building, meeting guest artists, and more seems like a dream come true for any band musician. For sophomore Grace Comeaux, this turns out to be a reality.
On Feb. 2, Comeaux was awarded a scholarship to visit the NIU Combo Day for free due to her excellent performance. Though Comeaux is new to playing the trumpet for the high school Jazz Band, being only a sophomore, she has proved her success and ability to excel in the skill.
"I got invited to be in the Huntley High School Jazz Combo, and I was the only freshman out of all seniors," Comeaux said. "This year, everything went great again because I got first chair in the school's band."
Even Rick Rohde, the Jazz Band director at Heineman Middle School, has noticed how much she has stood out since they started working together her freshman year. 
"It is really rare to see a freshman enter high school with the maturity and ability that Grace has, and I can't wait to see how she continues to improve," Rohde said.
Outside of Jazz Band, Comeaux is also involved with Huntley High School's choir and theater where she is just as dedicated. One of the more recent roles she took on was playing Mrs. Peacock in the play adaptation of "Clue." Senior and castmate Isabel Kusiolek is one of many who has taken notice of Comeaux's spirit and involvement in everything she does. 
"Grace has a very dedicated work ethic. She always showed up and tried her best at every rehearsal which was nice because she was new to many of us," Kusiolek said. "We built trust with her really quick because we knew that even if she had her struggles, she was really trying."
Though Comeaux is involved in the arts in many different ways at Huntley, the ultimate path she plans on taking is that involved with the band. According to Comeaux, it is something she will definitely continue in college and likely in the real world as well.
"Grace has expressed an interest in studying to be a music teacher when she goes to college," Rohde said. "If she decides to take that path, I am certain that she will succeed." 
Though she has time to decide what path she chooses to take in life, it is clear that Jazz Band, and the opportunity to go to the NIU Combo Day, have positively impacted her life.
"[Playing trumpet] really became my passion in freshman year," Comeaux said. "We were at this festival, and I got invited to go to this combo day. That's really what made everything go uphill."