Conference title dreams for boys soccer dashed by CG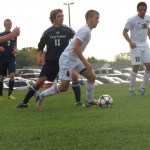 Thursday evening, the varsity boys soccer team (12-4-1) lost its chance at the Fox Valley Conference title with a 2-0 loss to an undefeated Cary-Grove team. From the beginning of the season, the Raiders had their eyes set on the title, but the loss to Cary confirms that the title will either go to Cary or Dundee Crown, who play for the title next week.
The teams were well-matched, but Cary punched in two goals in the first half. The first came after a Huntley penalty, and the second meandered past the Huntley defenders off a rebounded corner kick.
"We gave up two bad goals. The first one I don't think was a foul, but that's irrelevant," said head coach Kris Grabner. "We've got to be turned on and focused. We made a massive mistake on that second shot. I wasn't happy from that standpoint."
However, the Raiders played strong defense the rest of the game, preventing more Cary scores and shutting down Cary's two top offensive players. They matched the speedy Cary team throughout the game and had several shots on goal in the second half, but none of their attempts came to fruition.
"We struggled with taking shots on goals," said junior defender and captain Jakub Rys. "We weren't finishing with goals."
With the conference dreams in the dust, the team now looks forward to regionals.
"To get ready for the end of the season we have got to be focused 100 percent of the time. We can't switch on and switch off, back and forth," said Grabner. "You're either on the entire game, or you're out of the playoffs."
Rys said that the team needs to restore the team's harmony that it enjoyed in the beginning of the season in order to come through on tough games and to be successful in playoffs.
Additionally, Grabner emphasized the importance of confidence.
"A game like this, they need to realize they're every bit as good as that team," said Grabner. "We just handed it to them."