Kyle Sommerfield
Six Flags Great America is known for its s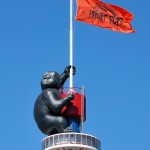 ummer appeal. Kids spend their summer vacations
riding rollercoasters and playing games. However, the start of October marks a change in the
park. The water is dyed red, the park is decked out with decorations, and Fright Fest begins.
During the day, the park is very similar to what it would be over the summer. Most of the
attractions are still running, but even more attractions have been added for families. All
frightening characters stay out of the park until 4 p.m. and all haunted areas are closed until
nightfall. Children can also trick-or-treat on the Character Candy Trail on Saturdays and
Sundays from 11 a.m. to 1 p.m.
However, the real fun begins at night. Fright Fest offers a variety of Halloween events,
including five haunted attractions and several shows.
Each of the park's haunted attractions offer a different type of scare, but some execute better
than others. The Mausoleum of Terror was the best haunted attraction by far. Its elaborate
special effects and abundance of monsters create not only a frightening experience, but an
entertaining one as well.
Manslaughter Manor and Massacre Medical Center were pretty good, but did not offer the same
experience as the Mausoleum of Terror. Manslaughter Manor offered a more modern scare,
utilizing a realistic back story and characters that looked like something out of "The Exorcist."
Massacre Medical Center offered cheap thrills, but never provided any truly frightening
experiences. Still, it was elaborate and fun to walk through.
Unfortunately, Wicked Woods and the Deadline failed to live up to expectations. Wicked
Woods had potential to be entertaining, but frankly, it wasn't scary. Multiple bigfoots and other
mythical creatures don't exactly strike fear into visitors. The Deadline was even worse. It was
nothing more than a leisurely train ride, ending with a short walk through an area with a few
zombies. A haunted train ride has potential to be one of the park's main attractions, but the
Deadline could barely be called haunted.
If sheer frights aren't exactly your style, Fright Fest offers several shows. Some of the most
popular shows are "Love at First Fright" at the Grand Music Hall, Susan Rosen's hypnosis show
at the Pictorium, and "Face 2 Face" at the County Fair Stage. Fright Fest also added Fright
Club this year. Fright Club is an area in Hurricane Harbor where adults can party instead of
wandering around the park.