[BRIEF] Kaniewski advances to State Preliminaries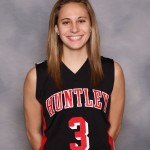 Huntley senior Amanda Kaniewski advanced to the State Preliminaries of the Country Financial 3-Point Showdown on Thursday night.
Kaniewski tied for third place in the sectional round of the Showdown before Huntley's sectional championship game.  After knocking down nine 3s in the first round to tie with six other girls for first, she drained three 3s in the tiebreaker.  Kaniewski's three points in the tiebreaker tied her with Prarie Ridge's Sarah LeBeau and Harlem's Serina Cortinez.  Kaniewski and Cortinez both advanced by hitting two shots in the second tiebreaker.
Belvidere North's Taylor Martocci and Streamwood's Jessica Cerda also advanced in the first tiebreak with six and five shots made, respectively.
The four girls advanced to the State Preliminaries, which will take place on Thursday, Feb. 28, at Redbird Arena in Normal, Ill.