Save the last dance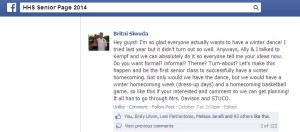 After a very successful homecoming pep rally and dance in early October, HHS students, particularly seniors, have requested that Student Council plans another round for the winter season.
There has been talk in the Seniors 2014 Facebook page of a Homecoming basketball game with a winter dance to follow as a mid-year celebration.
Dance themes are up for debate in the page such as masquerade, neon, "Huntley Hoedown," or simply formal attire.  Student Council will ultimately decide the winner.
Planning a Homecoming basketball game is no problem.  However, there have been many unsuccessful attempts at planning winter dances in years past, formal and informal.  Selling enough tickets to pay for the event has never been done.
"We would probably need to sell at least 200 tickets to make the dance happen," said Student Council adviser Tom Kempf.
Over the course of the past three years, a combined total of 80 dance tickets have been sold.
"We understand that the school is really excited for a winter dance, but we also know how hard it is to actually get people to go," said senior Student Council member Allyson Pater. "It's easier for people to press a button on Facebook saying they're going than actually buy a ticket. I think if we go with a formal 'Homecoming: Part Two' idea, it might go over a little better."
Planning will begin in late November or early December, so only time will tell if student interest is serious enough for one more dance to be added to the year's agenda before prom in May.