Boys Track Kicks off the Season with a Win
This Feb. 22 the Huntley High School boys track team laced up their shoes for the first meet of the season. From pole vaulting to the mile run the boys used their preseason preparation to compete against 14 different conference teams. The schools participating in the Huntley invitational were Huntley, Fremd, Plainfield East, Minooka, Barrington, Stevenson, Grant, McHenry, Rolling Meadows, Jacobs, Burlington Central, Harlem, Marengo, and Crystal Lake Central. The boys kicked off the season ending the meet in first place with 122 points. In comparison, Fremd, the team who got second place received 66 points. "After this win, I feel confident in the team," said junior Nick Chung. "We didn't have our full force yet because we don't have some people competing however we went up against great schools and came out on top." Overall, the teams competed in 15 varsity events, both indoor field and running events. Huntley showed their strength and commitment in all events. Continuing a winning pattern from last year, runners like senior, Dubem Anikamadu and senior, Melvin Aninagyei started the season off with first place titles in some of their events. The team is going into the season with a high ranking in State and individual confidence. "Mentally and physically we prepared thoroughly the concepts that Coach Rolando, along without other coaches have taught us," said junior Kevin Adams. "After the first win on Friday, we showed how the team as a whole can be really competitive, which will ultimately help us win."
Hang on for a minute...we're trying to find some more stories you might like.
About the staffer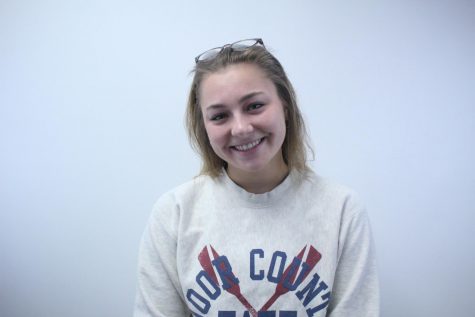 Emma Kubelka, editor-in-chief
Emma Kubelka is the editor-in-chief for The Voice and huntleyvoice.com; this is her third year on staff. Emma is also on the Huntley swim team. She loves to explore, learn, and challenge new things. She is proud to be on staff and looks forward to the future.