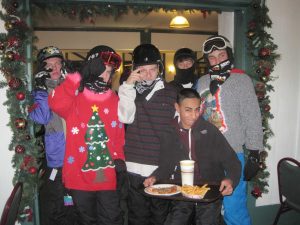 The worlds most famous furry forecaster, Groundhog Phil, saw his shadow on the ground Feb 2. This means six more weeks of winter and more snow on its way.
Hey, what a great time to join the Huntley Snow Raiders.
Snow Raiders is a fantastic way to get involved and learn how to snowboard while you are meeting knew people.
Angela Zaleski, who is also a health teacher, has been the only sponsor of Snow Raiders since 2007 and is the club supervisor.
Located up in Alpine Valley Resort, which is only about and hour away by bus, there is one time fee of $15, bus and lift tickets as well as rental will be a total of $45; but if you already have your own snowboard, it will only be $30.
The more and more you join the Snow Raiders on their trips, the cost will only get cheaper and the prices have not changed in several years.
"It is scary, but well worth trying. Don't be nervous to join, the people in the club will take you under their wings," said Zaleski.
There are at least six trips a year (all based on weather) and each of these trips have a fun theme, including ugly sweaters, mustaches, and even a Hawaiian theme.
"Weather has been very cooperative this year," said Zaleski.
Out of a total of six trips, there are about two more left that are right around the corner which is on Thursday, Feb 27 and a make up date on Thursday, March 13.
But you must join before the fifth and sixth trip. No you do not have to come on all six of the trips, but why not.
But you know what is equally as great, if you obtain the Student Club Card, you can receive a discount ($16 for life tickets and $16 for rentals) if you go to Alpine Valley on other days without Snow Raiders. But still go as much as you can with the Snow Raiders.
"There are a lot of really nice people, random people you've never met will sit next you and before you know it you are best friends," said junior Taylor Slator.
So why not give it a try.