Red Raiders defeat Warriors 55-28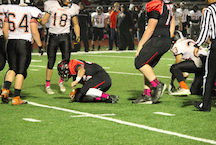 Music blasted as the Red Raiders varsity football team made their way to the field, led by junior Ryan Ford. A light rain hung over the field throughout the night, but spirits were high in Friday night's game against the McHenry Warriors. The pink sea that was Raider Nation chanted and celebrated the Raiders' exhilarating and successful efforts.
In Friday night's game, Huntley against McHenry, the final score was 55-28, with Huntley as the victorious team. The highly anticipated victory brought the Red Raiders' record to 7-1 this season, as the playoffs approach in the next two weeks.
Junior Casey Haayer scored the first touchdown of the game, rushing 5 yards, with about 8 minutes left in the first quarter. McHenry quickly came back to score a touchdown with less than 4 minutes to go. With only a few minutes left, freshman Eric Mooney scored a 16 yard touchdown to bring the score at the end of the first quarter to 14-7, with Huntley in the lead.
In the second quarter, McHenry scored an additional two touchdowns, while Huntley had one by Haayer, again, bringing the score to 21-21 with 5 minutes left in the first half of the game. Then, senior Brandon Altergott caught a short pass and made the 66 yard touchdown, bringing the Raiders up 28-21. In the final 4 minutes of the half, Haayer made his third touchdown of the night, and senior Jeremy Behnke scored the first touchdown of his high school career, bringing the final score at the first half to 41-21, Huntley.
In the third half, McHenry scored their fourth and final touchdown of the night, giving the Red Raiders a 41-28 lead. McHenry's kickoff was then returned by Altergott for a 79 yard touchdown, and he later caught an additional 90 yard touchdown, making the final score 55 Huntley 28 McHenry at the end of the third quarter. 
Altergott was on fire that night, with three touchdowns overall and 235 yards returned.
The last quarter of the game saw heavier, cold rains and reduced attendance, and no additional points were earned by either team.
Football coach John Hart credited Altergott for his amazing performance , singling out the senior in saying, "[he] changed the game," and "he's pretty special."
It was an exciting and dynamic game, both teams being more competitive than what has been seen with the Red Raiders football team and the opposing schools over the past couple weeks. Next Friday the Raiders face Dundee Crown, and the following week they begin the first round of the playoffs.