A game for the record books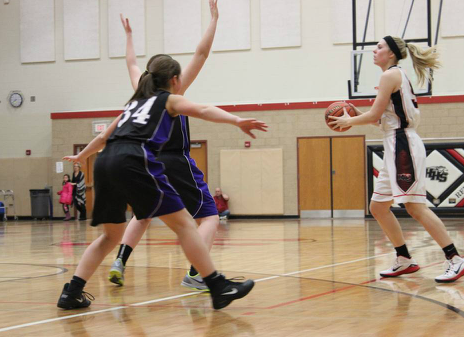 Andrews gets the ball, takes step-back three and its good. The crowd gives her a standing ovation. Ali Andrews receives flowers from her teammates and many cheers from the crowd. Andrews just broke Huntley High School's basketball all-time scoring record with 1,675 points beating Samantha Mader's record of 1,655 points. Andrews broke this record as a junior and she still has one more year of high school to raise the score to its ultimate level.  Tonight was a proud moment in Andrews's career that will always be remembered.
The Red Raiders beat McHenry 45-27. Andrews led the Raiders with 22 points. From the tip-off the Raiders controlled the game and out played the Warriors.
After one quarter the Raiders were winning 8-3, with Andrews having all of the Raiders points. In the second quarter the Raiders had lockdown defense and did not let McHenry score one time. The half-court trap was so effective that McHenry never figured it out. McHenry couldn't run any type of offence with constant pressure from all angles.
At the half the Raiders were winning 22-8. Andrews making it look easy with 14 points. The start of the second half was all offense for the Raiders. Moving the ball from side to side, they scored 11 points in the third. They also held McHenry to just 5 points.
In the fourth the domination continued, the Raiders were able to score an additional 12 points. The final score was 45-27 Raiders. This puts the Raiders at 21-3 and 10-0 in conference play. Andrews ended with 22 points, Paige Renkosik contributed 8 points and Kayla Barreto had 6.