Huntley kicks off fall season with annual Fall Band Concert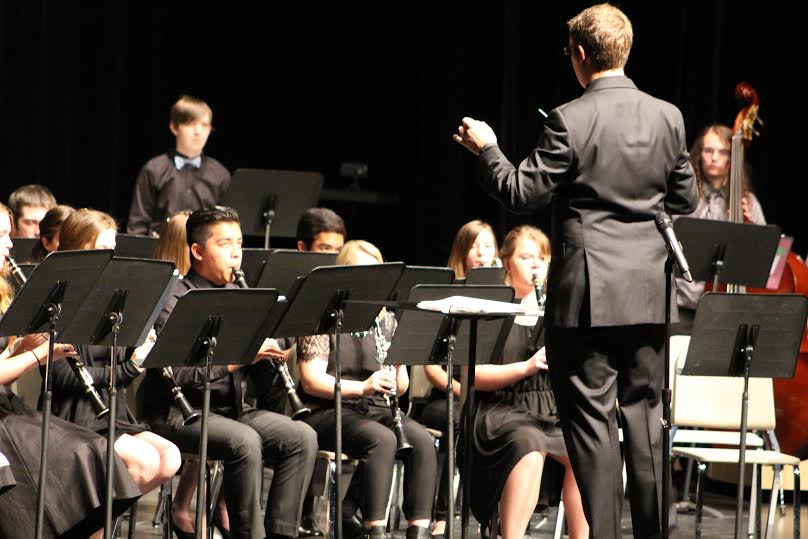 On Oct. 20 at 7 p.m, families and friends came together in the PAC for the first band concert of the year. As parents and siblings grabbed their programs and took their seats, the PAC was filled with the sound of classical music being played over the intercom.
The first session was for the returning band members, as the Symphonic, Jazz and Percussion bands performed. Later on, at 8, Concert Band, for freshmen, Wind Ensemble B, Wind Ensemble A, Marching Band performed. For some this was their first time performing and for band director Philip Carter, this was his first time being a teacher and conducting a band.
"Six months after graduating from college I began teaching," said Carter. "This is the biggest band I've conducted".
According to Carter, before Huntley he taught at a school that covered elementary, middle, and high school. With all these grades together, the band was never as big as the one here.
The night consisted of a story. Every song had a similar to feel to it. Each song had a melancholy sound, but then turned upbeat. With every piece bringing a similar sound, each piece also had its things that made it difficult to nail down.
"The way I teach is like a big math problem," Carter said. "Every week I teach ⅛ of the piece. We were ready, performance wise, two to three weeks before tonight".
Each band had something different to offer, including the Symphonic band with a more classical sound, and the Jazz band with a more fun, poppy sound. Some of the members of the band got into it by nodding their heads  with every beat.
Sophomore Anjali Bhatt and Carter both agree that "they have progressed since the beginning of the year".
"We learned how to balance our sound with other bands," said Bhatt. "We have definitely improved".