The Huntley Red Raiders football team beat the Dundee-Crown Chargers 43-6 , sealing the Raiders' first undefeated season in school history.
This season has been full of firsts for the Red Raiders.
"No team has ever beat Cary before this season," said junior running back Mike Ahmer. "The fact that we just went undefeated is huge for us."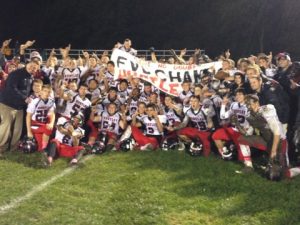 The Raiders set the tone of the game quickly, scoring a touchdown and converting the two point conversion. Senior Casey Haayer's 53-yard carry was the highlight of the drive. Sophomore phenom Eric Mooney then proceeded to score on a 5-yard run.
The second half followed a structure similar to that of the first. Mooney continued to dominate the run game, taking another 16-yard carry to the back of the endzone. Wide receiver Alec Coss also contributed to the Raiders' offensive success, and has become one of Binetti's favorite targets.
Dundee-Crown answered with a touchdown of their own in their first drive, but never found the endzone again.
Huntley's defense had another impressive showing, blocking a punt and recording a forced fumble courtesy of Illinois State-bound senior Tim McCloyn.
Going into halftime, the Red Raiders had a commanding 29-6 lead. Mooney rushed for 126 yards along with two touchdowns. Haayer added a touchdown and 94 rushing yards of his own.
In addition to finishing the 2015 season undefeated, the Raiders also clinched the Fox Valley Conference Valley Division Championship for the first time.
"It feels good to know that a few years ago, no one knew Huntley and now we're conference champs," said junior Tyler Hartline. "It really sets us up for better and brighter years."
The Red Raiders' next game is to be determined, as the IHSA has not set the playoff brackets. State series information and brackets can be found at ihsa.org.