T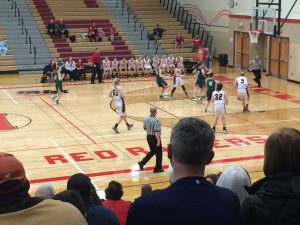 he Huntley Red Raiders' girls basketball team overcame a difficult first half to beat Crystal Lake South 45-31.
Huntley was coming off a 72-33 victory against Crystal Lake Central last week , and used that momentum to improve their record to 22-3.
The starters for the game were seniors Kayla Barreto, Paige Renkosik, and Ali Andrews, along with juniors Morgan Clausen and Maddy Moffett.
In the first quarter, Huntley had a rough time adjusting to the CLS defense, with it being 8-2 Crystal Lake South with 5 minutes left in the first.
However, forwards Andrews and Clausen sparked the offense at the end of the first quarter but Crystal Lake South led 18-10 at the end of the first.
In the second quarter, a 13-8 run by Huntley sparked their offense, and with two minutes left in the second quarter, Huntley took their first lead off an Andrews three pointer.
In the third quarter, Crystal Lake South scored the first points, but fouls for South would be costly as they would fall to a 33-25 deficit in the middle of the third.
By the end of the third, Huntley would have a 37-29 lead as made free throws by Clausen, Renkosik, and Andrews would hurt Crystal Lake South's chances of winning the game.
In the fourth quarter, Huntley would run away with the lead due to great defense, including two blocks from Clausen. Huntley would just run the clock out in the last three minutes, making it a final score of 45-31 Huntley.
The top scorers were Andrews with 26 points and Clausen with nine.
"I am proud of the way our team played tonight," said head coach Steve Raethz. "We now just have to focus on our next game against Dundee-Crown and also start preparing for the postseason."
Huntley's next game is on Feb. 6 at home against Dundee-Crown.