Taking their seats after leading the Pledge of Allegiance, middle schoolers from both Heineman and Marlowe answered some questions from the board. Thursday, February 4, for the first time, the students could be seen above the computer monitors, which was quite different from all the younger students before them who were much wilder and excited than the sophisticated young adults.
Following the pledge, the board of education held their regularly scheduled Committee of the Whole meeting, along with a short special meeting just before it. The board discussed a wide variety of topics from the Chrome Books in the middle schools, to reviewing the math curriculum, and even to updates on the HHS construction and renovations.
Most importantly, since spring is just around the corner, summer school will definitely be on the minds of many parents for their children in elementary school, but also the high schoolers who would want to take 'get ahead' courses.
According to Chief Academic Officer Dr. Erika Schlichter, the structure for summer school will also remain unchanged, learning assistance will be offered for elementary, middle, and high schools, as well as the jumpstart for middle school, and get ahead for the high school.
"We had good results, we want to trek those results over another year before making any significant changes, just to make sure we're moving in the right direction," said Schlichter. "So we do plan to hold steady on student fees."
There is a slight calendar issue, it seems, where the 4th of July week is a little cramped, and there being only one week after summer school ends and when regular schooling resumes. Thus, making it a little hard on those students who elect to take courses over the summer.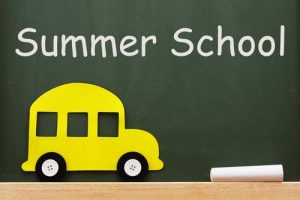 Another issue that came up is the actual registration part of summer school courses. Last year, it was chaotic where classes filled up within the first hour on the first day it was open on the webstore. It resulted in many upset parents and students, and a lot of sorting out for the staff.
According to Scott Rowe, principal of Huntley High School, the reason so many people wanted to sign up for summer classes was because the summer courses would have been the last chance for them to take Driver's Education and General Constitution as quarter long classes instead of the new semester classes for the 2015-2016 school year. So, people were rushing to get into those courses before spaces ran out.
"I don't anticipate, the same type of demand at the onset," said Rowe.