The East Gym was a sea of neon green on Friday afternoon as Huntley High School kicked off its second annual Huntley Goes Bald Assembly.  The assembly consisted of several different events, with the main event being student and teacher teams shaving their heads to benefit kids with cancer in the Huntley community.
The Huntley community came together and raised over $50,000 to donate to local families with kids battling cancer.  Of those kids, Teagan Haniszewski and Matthew Erickson, who have their own charities, "Opening Doors with Teagan" and "Team Matthew" respectively, were at the assembly cheering on and taking pictures with the shavees.
Huntley High School was also honoring one of its own, junior Justin Domingo, who is battling Hodgkin's lymphoma.  On the back of the St. Baldrick's shirts were "#JustinStrong," to recognize Domingo and his battle.  Domingo was also presented with a check for $560 to cover his medical expenses.
The assembly started with all of the shavees parading around the gym and taking their seats.  Of the shavees, there were about 10 girls signed up, including teachers Anne Sharkey and Bridget Regan.
The first event was a teacher vs. student dodgeball game, which resulted in a win for the teachers after junior Joe Boland was eliminated.  All of the classes then battled it out in a game of Hungry, Hungry Hippos, where the juniors won after a tight race.  The classes were battling it out in order to win the coveted Spirit Barrel, which was claimed by the seniors at the Homecoming assembly.
Then, it was principal Scott Rowe vs. Kris Grabner battling it out in the Water War.  Rowe was looking for revenge after losing to Grabner in Egg Roulette at last year's assembly.  10 cups of water and three pitchers later, Rowe reigned victorious.
Throughout the event, math teachers James Allen and Maggie Fulling were raffling off prizes for students who wore their St. Baldrick's shirts.  Among the prizes were free McDonald's shakes and parking passes, and Famous Dave's and Rookies gift certificates.
Finally, it was time to announce the winning teams of the Penny Wars and to begin shaving.  In third place was Team Sharkey, in second place was Team Henricksen, and in first place was Team Aney, who won back-to-back first place titles.
On team Henricksen was sophomore Maggie McGee, who was set to be shaved at the assembly.  It was announced, while McGee was being shaved, that she raised the most money individually: $1,890.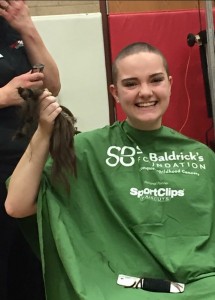 On team Aney was sophomore Hannah Hennessy, who decided to "brave the shave" for a reason.
"I have always be so touched by all the stories I have heard.  The little kids are always so sweet and happy, it's unreal what they went through," said Hennessy.  "I knew my hair was being donated to bring happiness to a patient out there, and so I have absolutely no regrets.  I saw all the love and joy it brought to everyone around me, and knowing how I helped kids like Justin and Teagan, I truly understood why I did this."
While the students and staff were being shaved, it was announced that the sophomores had claimed the Spirit Barrel.  The bleachers erupted and the sophomores began throwing the candy from the barrel at the crowd.
As the assembly came to a close, a newly bald Hennessy looked back on her decision.
"It was unreal.  When I was watching Maggie get shaved, it was hard to hold back tears.  She looked so beautiful, and we were all crying," said Hennessy.  "I talked to Teagan and told her how beautiful, strong, and incredible she is.  People kept telling me how beautiful I was and how I could pull off the whole bald look, but the truly brave ones are the patients and their families."
The St. Baldrick's event would continue at Huntley High School from 4-7 p.m. Friday night, where the community could come and "brave the shave."  On Saturday, the festivities continued at Parkside Pub in downtown Huntley, with live bands, food, and lots of shaving.
Overall, Huntley High School raised about $50,000. The Huntley community added to that, raising a grand total of over $94,000 for childhood cancer research.  Combined with last year's donations, that is $137,000.
"Oh my gosh, yes! I would LOVE to do it [shave] next year.  Now that I know what I look like and how amazing it feels, I would do it again and again, hands down," said Hennessy.  "Losing my hair is nothing, donating my hair is worth it, and the whole experience is surreal.  I would give anything to live it all over again."