Huntley High School's girls soccer team faced off against Lake Zurich last night in the first game of the season.
It was a rough beginning of the season for the girls, but despite their loss their defense was outstanding. While the team did not win, their determination to work hard was shown by the final score of 1-0.
"With this being our first game, we were a little bit sloppy, but our team worked hard the whole game," said coach Kris Grabner.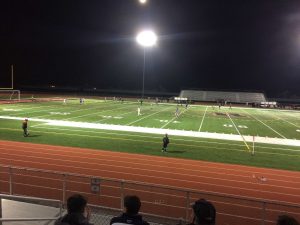 This was the last season-opener for the seniors on the team. Senior goalie Paige Renkosik was a crucial asset to the team during this game, as she made a great save with 9 minutes  left in  the first half.  She was at it again only a few minutes later, stopping a breakaway.
The team started the game off strong by keeping a tight defense. Lake Zurich scored their first and only goal in the last 9 minutes of the game.
In spite of the loss, they will not let this stop them from having a great season. If the Red Raiders keep up their strong defensive efforts on a consistent basis, they will be a tough team to face as the season progresses. 
"We will work as a team to fix our mistakes and improve as the season goes on," said Grabner.