Fantasy Masters predicts round two of NHL playoffs
Western Conference
Series: (1) Dallas Stars v (2) St. Louis Blues
Pick: Blues in 6
Why: Both of these teams took early leads in their first-round series and then nearly lost to lower-seeded teams. Dallas started off strong against Minnesota, but looked shaky as they let the Wild come back to bring them to game six, and only a ridiculous clear kept the Wild from tying that game up late in the 3rd. Meanwhile, the Blues blew a 3-1 lead against Chicago, but managed to hold on at home. St. Louis is still the most talented team in the West, both offensively, defensively, and in goal. Dallas has enough offensive firepower to compete with anyone, but goalies Kari Lehtonen and Antti Niemi are average at best, and that doesn't bode well against a St. Louis team with a star like Vladimir Tarasenko. Dallas' Jamie Benn, Tyler Seguin, and Jason Spezza are always dangerous, but St. Louis goalie Brian Elliott proved that he's a superstar by shutting down Chicago's dangerous forward duo of Patrick Kane and Jonathan Toews. Barring a major regression from Elliott or Tarasenko's disputes with coach Ken Hitchcock resulting in the Russian star's benching, the Blues should find a way to advance.
Series:  (3) San Jose Sharks v Anaheim Ducks/Nashville Predators
Pick: San Jose in 6
Why: At the time of this article, game seven between Nashville and Anaheim hasn't been played, but I'm confident that San Jose can beat either team. The Sharks will have a major rest advantage over their opponents, seeing as their series ended nearly a week ago, and their opponent will only have a day of rest before entering round two. San Jose looked absolutely dominant in dismantling an always-dangerous Los Angeles team, and their secondary goalscorers started to heat up as the series went on. Anaheim has fantastic offensive depth with Corey Perry, Ryan Getzlaf, and Ryan Kesler, but San Jose's defense has been impressive this year, and they go six men deep, something few teams can boast. The Sharks also have standout goalie Martin Jones, who was confident in his first year as a full-time starter and thoroughly outplayed Jonathan Quick in the first round. Nashville has great defensive depth and a star goalie in Pekka Rinne, but their offense is shaky and San Jose has shown that they have one of the deadliest power-plays in the league, but scorers like Joe Pavelski, Logan Couture, and Joe Thornton are just as deadly in 5-on-5. Expect rest to play a huge advantage in this series, as San Jose will come out flying and take advantage of their tired opponents.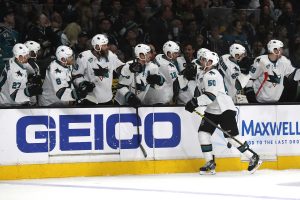 Eastern Conference
Series:  (2) Tampa Bay Lightning v (WC1) New York Islanders
Pick: Tampa Bay in 5
Why: Tampa Bay is incredibly talented and could potentially be boosted if Steven Stamkos or Anton Stralman are able to return to the lineup. Even if they can't, the Lightning have an incredibly deep team that goes four lines deep on offense and six men deep on defense. Goalie Ben Bishop is outstanding and everyone on the Lightning is experienced, as they made the finals just last season. The Islanders have talent, but they have a huge question mark in goal. Thomas Greiss was supposed to be a backup this year, but was forced into action by injuries and has played well. However, he doesn't have a ton of deep playoff experience, and nerves could cause him to let in some easy goals. That's a death sentence against a team as defensively-talented as the Lightning. Frankly, New York doesn't have the talent or depth to compete with Tampa, and the series should be relatively short.
Series: (1) Washington Capitals v (2) Pittsburgh Penguins
Pick: Washington Capitals in 7
Why: These two teams are arguably the two most talented teams left in the playoffs, maybe even in the entire league. Washington won the Presidents' Trophy for best regular-season performance, and they were dominant early against Philadelphia in the first round. They struggled in games four and five, but put on a great showing to eliminate the Flyers in six. Pittsburgh has ridiculous offensive talent in future Hall of Famer Sidney Crosby, along with Evgeni Malkin and Phil Kessel. However, Washington boasts their own legendary forward in Alex Ovechkin, and he's provided with some great secondary scorers in Evgeni Kuznetsov and Nicklas Backstrom. Both teams boast solid yet unspectacular defenses, so this series should be a hard-fought shootout. Both teams are incredibly physical and aren't afraid to play dirty when they need to. The play in net will decide this series, and Washington has the advantage, as Braden Holtby has developed into a star goaltender. This series should go down to the wire, and there will be some fantastic one-man shows put on by Crosby and Ovechkin. It's really too close to call, but Holtby should put Washington over the edge.