Huntley defeats South Elgin to continue their run in sectionals
The Huntley varsity girls soccer team beat South Elgin 2-1 in the first round of sectionals, clinching their spot in the final versus Hononegah.
The team went into regionals with a 19-2-3 record, and was also coming off a 3-0 win against conference rival McHenry.
In the first regional game, Huntley beat Dundee-Crown 7-0 with great attack from the offense in both the first and second half.
The team took that win and used it as motivation to win their 10th straight regional title, and move on to sectionals.
Huntley had a bad start to the game in the finals for regionals against Hononegah, with them losing 2-1 ten minutes into the first half, and also with head coach Kris Grabner being sent off by having a heated argument with the referees.
However, forward Taryn Jakubowski was able to net in a hat trick by the end of the first half which also led to them leading 4-2.
"We had to pick up our game greatly in the second half," said defender Tayah Owens. "We knew that we had to be strong on both sides of the ball since the game was unpredictable."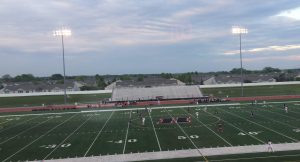 In the second half, Huntley's offense and defense was very strong with the defense not letting in a goal and the offense scoring two goals, clinching them with their 10th straight regional title with the final score being 6-2.
In the first game of sectionals, Huntley was able to overcome a win against South Elgin without Grabner since he was not able to attend the game because of the red card he received against Hononegah last game.
Forward Taryn Jakubowski was able to net two goals during the game, which would set up a rematch against Crystal Lake South in the sectional finals, with them losing to South 3-1 earlier in the season.
"I am so proud of our team and what they have been able to accomplish," said head coach Kris Grabner. "They have been working so hard to get to where they are and hopefully we can go on and beat South and also move on to super-sectionals."