Christmas comes early with winter choir concert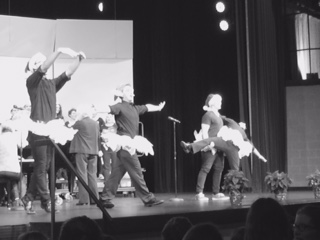 Opening the choir room doors, junior Jillian Hooker felt a rush of energy from her peers. With small talk filling the room, she made her way over by some friends. Everyone was preparing for their winter concert.
Dec. 1, all four choirs had their seasonal performance in the PAC. With a jolly theme and clever outbreaks of dance, the show truly was merry.
Beginning with the Freshmen Mixed Choir, it went onto the Concert, Treble, and Mastersingers choirs. For the finale, they all joined in unison to sing "Simple Gifts," arranged by Mark Hayes.
Before Treble, Concert choir hit the stage. This mix of sophomores and juniors put on a fun, light-hearted show with twists and turns.

In the middle of "Nutcracker Jingles," juniors Angelina Bloom and Gwen LeVault, along with two others, ran to the front of the stage to bust their moves. They proceeded back to their spots on the risers and then two magical tenors broke into dance, where the girls had left.
Sophomore Frank Mete ran off stage with his fellow dancer and they both came back out in tutus. They twirled till they could not twirl anymore, and then went to finish their piece.
"I was a fairy," said Mete. "I always look hot in a tutu." After leaving the audience in great laughter, Treble was on next.
Treble performer, sophomore Emily Gaus, was looking forward to busting out in song. Unlike Concert and the Freshmen choir, there was no organized choreography.  
"We do this cool Barber Shop formation," Gaus said. "But that's about it."
Their Barber Shop piece was the classic tune "White Christmas." With the soft harmonies of the altos and sopranos, the airy holiday spirit was definitely present.
At last, Mastersingers went on and left the crowd in awe. This group was absolutely incredible, so when paired up with Treble, everyone was shaken. Soloists Alyssa DeBock, Jacob Lopez, and Austin Krause killed it in "Domine, Ad Adjuvandum Me Festina."
The night was a success as teacher and conductor Nancy Cross wished the crowd safe travels.
Holiday cheer is here thanks to these talented students and more is to come.