Speech team heads down state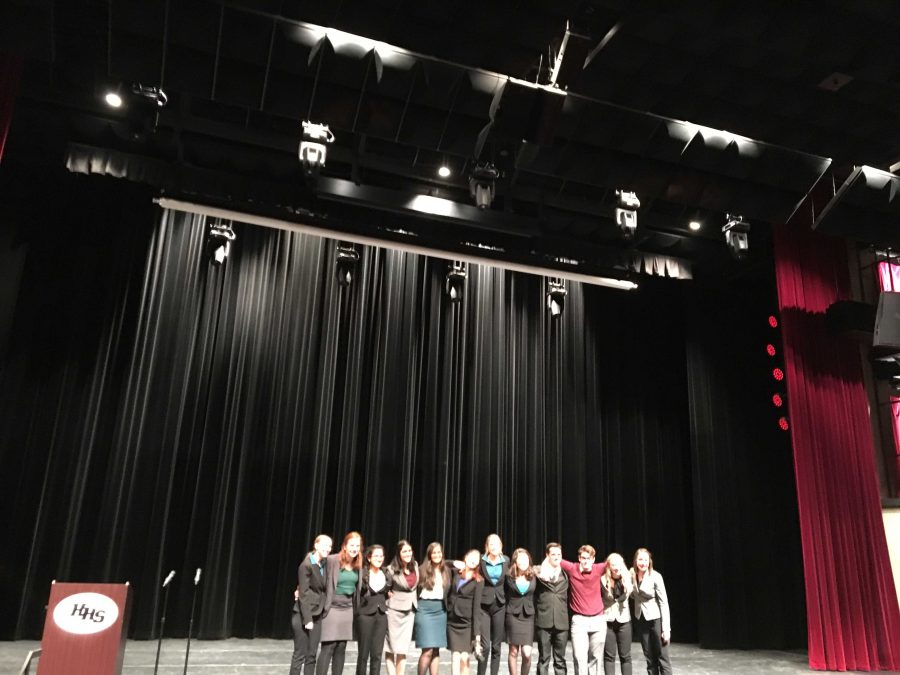 After a successful regional two weeks ago and a considerably competitive sectional tournament last week, Huntley High School Speech Team looks forward to the IHSA State competition in Peoria, Illinois.
The team took on the Rochelle Regional on Feb. 11, where they advanced 10 out of all 14 events onto sectionals. Seniors Palak Patel, Shamika Patil, Emily Hill, and sophomore Kate Urosevich took first place in Dramatic Interpretation and Prose, Impromptu, and Dramatic Duet Acting, respectively.
"Very proud of our regional team," coach Jim Wallace said. We advanced a lot of our team to sectionals, and the ones we didn't advance did well as well so I'm proud of everybody."
The team as a whole placed second with 55 points, just one point away from the regional champions, DeKalb High School.
"Overall, I was very happy with how the team did at regionals," Patil said. To know that we were only one point away shows that we are a strong team."
The following Saturday, the Speech Team came back home where they hosted the Huntley Sectionals Tournament. Compared to the previous competition, Wallace expected the competition to be stiffer.
"I'd say it's been pretty stacked," Wallace said. "Cary Grove and DeKalb were both big competition to look out for."
Given that they were competing with some of the best speakers from some of the best programs in the area, nerves were running rather high among some of the competitors.
"It was pretty nerve-wracking," Patil said. "When you're so close to going to state, you just want to push it all the way and it hope it pays off."
To qualify for the state competition, a performance had to achieve third place or higher in the final round. In preparation for that final round moment, the competitors have been meeting with as many coaches as possible for practice sessions.
"Our game plan for the state series has always been to get as many eyes on our competitors as possible," Wallace said.  "We want them to work with coaches they haven't really worked with before so they can get different perspectives."
Nine out of the 10 events competing made it to that final round moment and ultimately four of those events qualified for the state competition: Urosevich and Hill in Dramatic Duet Acting, junior Becca Zayas in Poetry, and Patel in Dramatic Interpretation and Prose.
[metaslider id=18763]
While these ladies are moving on to represent Huntley High School down in Peoria this weekend, those who did not advance still have the National Speech and Debate Association Districts competition on March 5 to look forward to. Wallace stresses that though it is technically a competition with a chance of going to Alabama to compete in the national tournament, the competition aspect is not what he wants the competitors to take away from it.
"My goal for the team is to have people walk away from this remembering how much of an impact being on this team has made on their lives, and carrying the skills with them and using it in the real world, and reflecting fondly on it, Wallace said."
Update: At the IHSA Speech Tournament, Urosevich and Hill placed sixth in DDA, Patel placed second and sixth in DI and Prose, respectively.