IHSA Solo/Ensemble Concert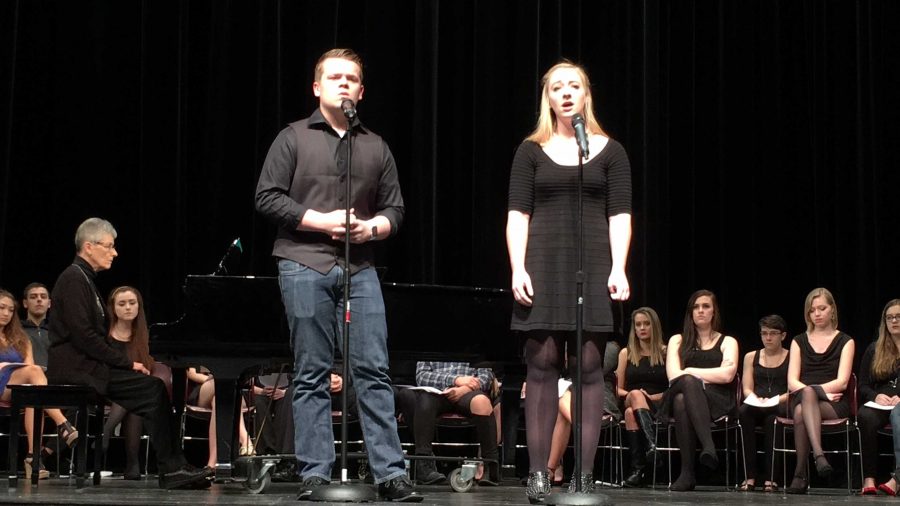 Last night, Huntley High School students performed a vocal and instrumental concert in preparation for the IHSA Solo Ensemble Competition.
There were just over 40 short musical performances split into three sections, each an hour long. The show included solo performances, duets, ensembles, quartets, and even one guitarist.
All performers have been preparing their songs since early winter. All students who performed will be competing at Harvard High School next Saturday, March 4.
The night began with a performance from senior Alexa Bennett performing "O Cessate di Piagarmi," and was followed by a plethora of experienced competitors, such as seniors Steele Dehmlow, Emily Hill, Katie Feeley, Sarah Augustine, Alyssa DeBock, Bijan Arevalo, Cali Carbello, Nic Mule, Matt Wolch, and Jenna Boyd in just the first hour.
[metaslider id=18902]
There was also a large younger crowd present at the concert, Vocal Fusion, a majority freshman barbershop group consisting of about 14 girls.
For freshman Melissa Bala, a member of Vocal Fusion, it will be her first year competing.
"I think just watching everyone perform puts everything into a different perspective," Bala said. "I learned that you need to be loud, obviously, but I think be confident in what you are singing and remember that there will always be people better than you, you just need to try your best."
According to Bala, this performance  has proven to be an enjoyable learning experience for future years of singing.
"It's really cool because I've never done barbershop before," Baka said. "Having to work together with other people, and making it blend perfectly is a really cool thing to witness."
Sophomore Emily Gaus performed "Mister Sandman," as part of a barbershop quartet in the last hour of the concert, and gave a confident performance.
"The concert is a great way to help a performer see how they have progressed so they can reflect on what to improve on before the actual contest," Gaus said. "It's also a great way to gain confidence if you're nervous when performing.
Aside from becoming more comfortable on the stage, Gaus believes that the concert highlights an important aspect of singing in the first place.
"[Our] performance was exciting because our quartet had finally felt good about what we had done, it's safe to say we had a fun time singing," Gaus said.
According to choir director Nancy Cross, this night is important in assuring success for her students come competition day.
"I think this evening is scarier even than the contest itself," said Cross. "It's giving them an opportunity to understand where they are in the process of preparing the material in a very real way."
For Gaus, this night, teaches valuable lessons.
"The most important thing I've learned by participating in this concert is the fact that there's always room for improvement," Gaus said. "Even as you become more confident, you can always work on something else. It's a great way to look at goals instead of becoming discouraged."
About the staffer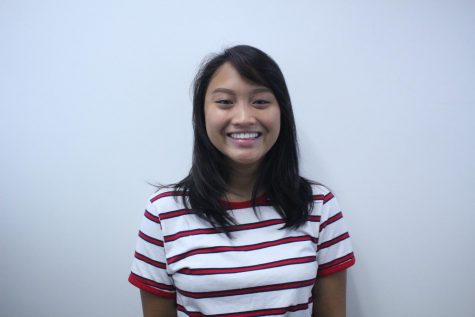 Faith Losbanes, print editor
Faith Losbanes is the Print Editor of The Voice; this is her third year on staff. In her free time, Faith likes to play piano and guitar with her family and paint whenever she gets the chance. While she's actively involved in theater at the high school, you can probably find her nerding out about something with her friends in the hallways.