Taco-about the Speech Team Fundraiser
Braving the icy roads and snowy weather, frostbitten members of the Huntley High School Speech Team patiently waited to indulge in a Chipotle dinner together.
This Tuesday, Jan. 22 the Speech program kicked their annual Chipotle fundraiser. The team gathered at the Chipotle in Algonquin from 5 to 9 p.m. The team spent the night raising proceeds and spending time together while enjoying a dinner together.
The team used social media to advertise the "School Spirit Tastes Great" fundraiser and received 33 percent of the earning that night.
Because of the passion and involvement Speech Team encourages, each member was eager to celebrate.
"The program is so important, it helps grow skills and confidence that will be used for the rest of your life," junior Melissa Bala said. "Speech classes and Speech Team are what helped me grow as a person and become more involved."
It is important to the Speech Team that the rest of the school knows how they are doing in the different competitions they participate in, the Chipotle event being a perfect opportunity to share that with the community. For example their successes in the overnight tournament at Downers Grove South last weekend, Jan. 18 -19, where Huntley had students progress to the finals.
"I think it's important that the school supports the program because of how beneficial it is and how much it has taught my teammates and me," junior Jacqueline Knebl. "[Speech] has boosted my confidence a ton and also taught me important skills."
Hang on for a minute...we're trying to find some more stories you might like.
About the staffer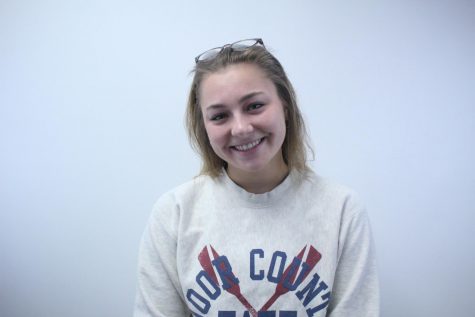 Emma Kubelka, editor-in-chief
Emma Kubelka is the editor-in-chief for The Voice and huntleyvoice.com; this is her third year on staff. Emma is also on the Huntley swim team. She loves to explore, learn, and challenge new things. She is proud to be on staff and looks forward to the future.