James Blake Returns With "Assume Form"
London-based singer, songwriter, and producer James Blake hadn't released an album in over two years, but was extremely active working on a number of massive albums like, "Lemonade," "Birds in the Trap Sing McKnight," "4:44," "Black Panther: The Album," and "Astroworld." He is finally back making his own music with the release of his fourth studio album "Assume Form."
Blake has his hands in so many different genres that it is difficult to categorize him. Grappling over whether or not his music sounded electronic, trip-hop, or like a video game, he couldn't even describe his own sound in an interview with Billboard.
"Assume Form" offers a little bit of everything from art pop to trap in just 48 minutes over 12 tracks. The first three tracks don't offer much in the way of excitement, just a couple of mediocre songs, even with the Travis Scott and Metro Boomin features.
The fourth song on the album, "Into The Red," was the first song to catch my ear. The track is a beautiful love ballad to his girlfriend, Jameela Jamil, containing sweet lyrics, soft acoustics, all over an extremely laid back beat with both electronic and acoustic instrumentals.

Spanish singer and songwriter Rosalía kicks off the next song, "Barefoot In The Park," in her native language. The Spanish vocals are accompanied by exotic and dreamy instrumentals that create a wonderful stage for the pair's duet.
The next song that I really enjoyed was, "Are You In Love?" The extremely bare-bones vocals and beat are accompanied by sweet lines describing the confusing moments before you know if you are in love or not. The synths during the opening lines of the song sound as if they are pulled directly from a video game from the '80s or '90s, and it is surprisingly hard to not take a liking to them.
Much like the start of the record, the final leg contains nothing special, but nothing particularly bad either, which is really how I'd describe the entire album. Nothing on it made me want to skip, but only a few tracks made me want to listen to again. For someone who did not know much about Blake before this album, I am still able to appreciate what he's done here. He's made a solid record that newcomers, and fans alike, can find enjoyable.
Hang on for a minute...we're trying to find some more stories you might like.
About the staffer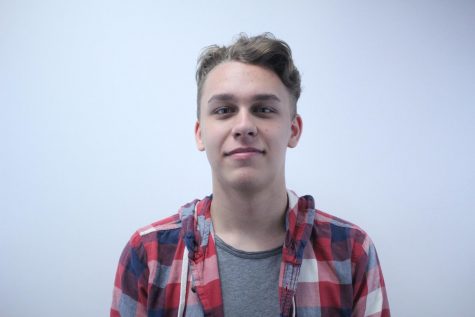 Austin Stadie, business manager
Austin Stadie is a second year staff writer and the business manager of The Voice. His interests include politics, sports, and music, all of which he writes about frequently.