Girls volleyball continues their winning streak
Libero Josie Schmitendorf's sneakers squeak against the glossy court as she dives for a hard-hit serve. Her seemingly effortless pass is sent arching upwards by setter and captain Taylor Jakubowski as the crowd roars in approval. With a quick snap of her wrist, outside hitter Emma Konie slams the ball against the line and finishes the play. 
E. Armstrong
On Sept. 25, Huntley High School's girls volleyball team won their match against Barrington High School in two sets, continuing their season undefeated. While the cohesiveness of the Raiders proved lethal to the Billies, it was hardly a surprise to the tight-knit players and head coach Karen Naymola.
"I love this team. We did a great job talking, and we played awesome together. We've been practicing a lot with throwing balls out, being scrappy on defense, […] and making sure the ball doesn't drop," Jakubowski said.
Their efforts paid off when the first set started with multiple serving streaks by seniors Jakubowski and Ashley Konecki, as well as junior Konie. After outside hitter Kylie Jenkins made a lunging save and brought the score to 10-2, Barrington called the first timeout. The Raiders continued to put pressure on the Billies, blocking, hitting, and tipping their way to a score of 23-14. 
Only two points were needed to wrap up the set as the Raiders got the ball back with a kill by Konie. The first set was a swift victory with the girls winning 25-14 in less than 15 minutes.
Set two began with back and forth volleys. After Barrington called a timeout with HHS winning 9-6, the Raider's momentum began to pick up. Well-placed touches and a serving streak by Jakubowski brought the score to 24-12. They finished the Billies off 25-12 with a fake by middle blocker Katelyn Bower and another hit by Konie.
Jakubowski had 18 assists throughout the match, and she and Konie led the team with eight digs each. Konie also dominated with eight kills and Konecki with seven. Yet, despite each player's impressive individual stats, it took a united team to beat Barrington.
"We really clicked tonight. We've been working on chemistry a lot during practice and working as a family," senior Schmitendorf said.
The word 'family' seems to come up a lot amongst the players. In preparation for their games, they forego the usual 'Raiders' or 'Huntley' cheers at practices, choosing to motivate themselves in a way that better reflects their team mindset.
"It means a lot more if you're playing for a family than just your team. […] I think this team earned [the cheer] because of how close they are and the cohesiveness they have together," Naymola said.
About the staffer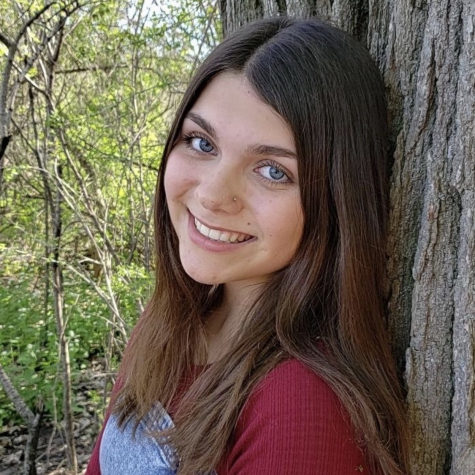 Ellie Armstrong, Editor in Chief
Ellie Armstrong is the co-Editor-in-Chief of The Voice in her second year on staff. She runs her own baking business called Ellie Rose Desserts. In her free time, Ellie likes to hike, obsess over Broadway musicals, and watch Marvel and Disney movies.