Christmas coming too early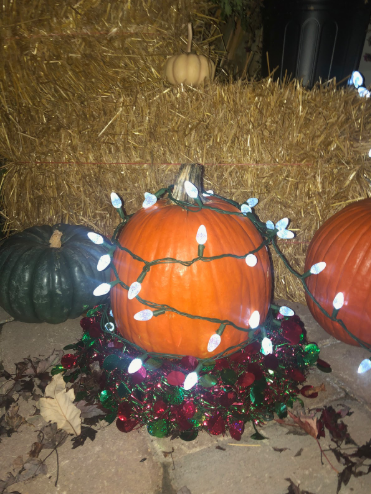 Starbuck's Pumpkin Spice Lattes are being sold by the second. Everyone is welcoming fall in their fuzzy sweaters and Ugg boots. Then, boom; somehow everyone finds themselves listening to "Jingle Bell Rock" by the middle of October. 
The transition from summer to fall is beautiful, but most of the time fall is rushed into winter and we seem to skip over the holidays in the middle. 
Halloween and Thanksgiving are outshined by our eager desire and longing for Christmas and they typically do not receive the same recognition. Carving pumpkins one night and putting up the Christmas tree the next almost creates an annoyance that we have towards holidays in the months leading up to December. 
There are people who have already put up the holiday lights on their houses, have decorated their Christmas trees, and have even started wearing their snowman socks before a single snowflake has touched the ground. With so much anticipation to get to the holiday season and everyone being wrapped up with having the perfect Christmas and doing fun winter activities; people seem to overlook the importance and fun of Thanksgiving. 
Sophomore Jordyn Trullinger is all about the Christmas spirit and is just looking forward to the best day of the year. She doesn't mind if it comes before December gets here. 
"My family starts Christmas the second week after Halloween," Trullinger said. 
Listening to Christmas music months prior to December and baking Christmas cookies at the beginning of November will not make Christmas come sooner and it builds the anticipation of the holiday season so much, that when it finally arrives, it almost feels like a letdown. 
Sophomore Zach Leitzke loves Christmas and enjoys listening to Christmas tunes as early as the beginning of the school year but also thinks that the holidays in between deserve more recognition. 
"I believe that Christmas can be hyped up so far that when the day finally comes you no longer have the Christmas joy you desire," Leitzke said. 
Like anyone, I'm a sucker for a good Hallmark movie but every holiday has a time and a purpose and it is important to recognize and celebrate each one, no matter which one is your favorite. There is nothing wrong with getting in the holiday mood, but there is such a thing as celebrating too early.