Huntley's girls swim team success blows everyone out of the water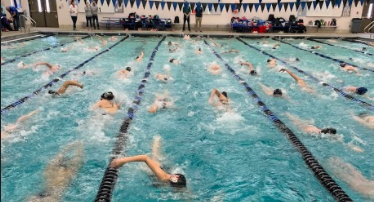 On a late, breezy evening, coach Jenna Gaudio asks her swimmers to introduce themselves to each other for their first day of practice. As the sun starts to set and it's time for the girls to go home, Gaudio asks her swimmers one question: Do you think we can win the conference?
Going into the season, the winning conference was a dream. However, after placing first for the first time ever at the Woodstock co-op invite with 598 points, Huntley had a feeling this year would be different.
"Once we all came to the fact that this is something we can do and this is something we're going to do, it just gave us that momentum we had throughout the season," Gaudio said.
Leading up to the Woodstock Invite, Huntley took fourth place at the Buffalo Grove Stampede, the Blue Devil Invite with 195 points, and Saint Viator Invite with 309 points. They also won the Auburn Relay with 98 points, while breaking the 300-yard backstroke relay record.
Their record-breaking results are due to the widespread talent amongst all four grades. According to Gaudio, this team is the most talented in Huntley swimming history.
"Having that depth and talent really made this season unlike no other," Gaudio said.
The talent of the team combined with intense dry land conditioning ensured success. With only three lanes at Northwestern, Gaudio uses all of her resources to allow the girls to leave 110% in the pool.
"[Coach] Jenna trains us very hard and with [the training] we went through, it was nice to see what the outcome gave us," sophomore Alyssa Tramuta said.
Going into the conference undefeated, the team was nervous and wanted to rise to high expectations. With 270 points, they won the Fox Valley Conference Invitational title for the first time in Huntley history with swimmers Sydney McGuine and Ella Young sharing the Most Valuable Player title.
"Just being able to jump into the pool after they said we won first with the trophy was the best. It was unlike anything I've ever experienced," newcomer Skyler Arredia said.
Their reign of success did not end at the conference. At sectionals, there were 17 season-best times and four school records were broken. 
For the first time ever, Girls Swim will be sending more than one athlete to state. Young, a sophomore, broke the 100 butterfly with 57.21 seconds at sectionals. At state, she will be joined by McGuine, a senior who plans to swim at the collegiate level. McGuine qualified in the 100 backstroke with 57.86 seconds and the 50 freestyle with 24.32 seconds, just four seconds under the qualifying time.
Good luck to Huntley's Young and McGuine at the IHSA State Finals this Friday and Saturday!