Huntley vs. Jacobs: The game to end the decade
I walk into the gymnasium where I see both teams warming up with an immense amount of energy, both teams are fired up and ready for the big game. There is quite the crowd sitting eagerly ready to watch the game, from little brothers and sisters to grandparents cheering on their grandchildren. Both student sections chanting loud in hopes that their team can take home the win tonight. With only one minute left in the warm up, both teams hustle to their bench to talk to their coach before the game.
It is time to announce the starters for both teams. Huntley's starting lineup include: Niko Mendoza, Ryan Sroka, Uchenna Egekeze, Ryan Vrugt, and Ryan Crosby. The hype is inconceivable, both teams line up near the middle of the court ready to start the game. Jacobs wins the tip and speeds down the court.
The first two minutes of the game are scoreless, Jacobs locking down Huntley's offense. This is until Ryan Crosby shoots a three from deep and hits it with nothing but net. This sparked the offense and they were ready to fire away. With only a few minutes left in the first, Niko Mendoza is knocked down by an opposing player on a dirty foul. Just under the hoop, Huntley gains possession of the ball and score on a mid range by Ryan Sroka. The game tied 12-12 going into the second quarter.
Huntley starts off the quarter with a corner three by Mendoza, you can hear the crowd cheering for both teams as they play their hearts out. Sophomore Ben Ahmer comes into the game with a passion and scores with two layups giving Huntley a little extra cushion. With only seconds left in the first half Uchenna Egekeze stops a fast break by Jacobs with a nasty block then continues down the court to get fouled, he then goes 1 for 2 at the line and the first half comes to an end 25-15 Huntley.
Both teams exhausted but still playing with all that they got, Jacobs fires up and starts to close the game the score 27-23 with 3 minutes left in the third quarter. The quarter comes to an end with Ryan Sroka blocking Jacobs leading point scorer in a vulgar manner, the score 35-29 Huntley.
The striking game coming to an end and Huntley continues to increase their lead, it is easily noticeable that Jacobs is getting very tired. Both teams fought hard and played well but Huntley comes out with the win 50-38. 
"I thought we performed well, I thought it was an overall good team effort. We all stepped up and contributed, from Niko's threes to easy layups that we got on transition so it was a good win," Senior Uchenna Egekeze said.
One thing that helped lead Huntley to their big win was their sharp defense.
 "I take pride in my defense, you know had a couple blocked shots here and there and got the team pumped up," Uchenna said.
Hang on for a minute...we're trying to find some more stories you might like.
About the staffer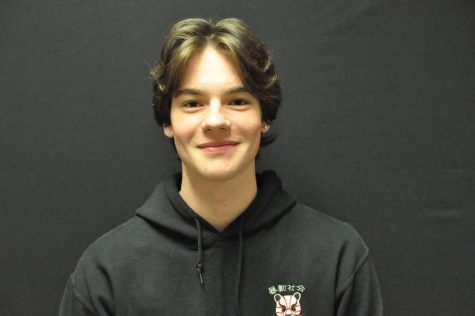 Jaryd Dixon, staff writer
Jaryd Dixon is a first-year staff writer for The Voice; he was featured in The Voice last year in the "What it feels like" issue. In his free time he likes to hang out with his friends and family, watch "The Flash," and play basketball.