Delve into the murder and madness of "Tiger King"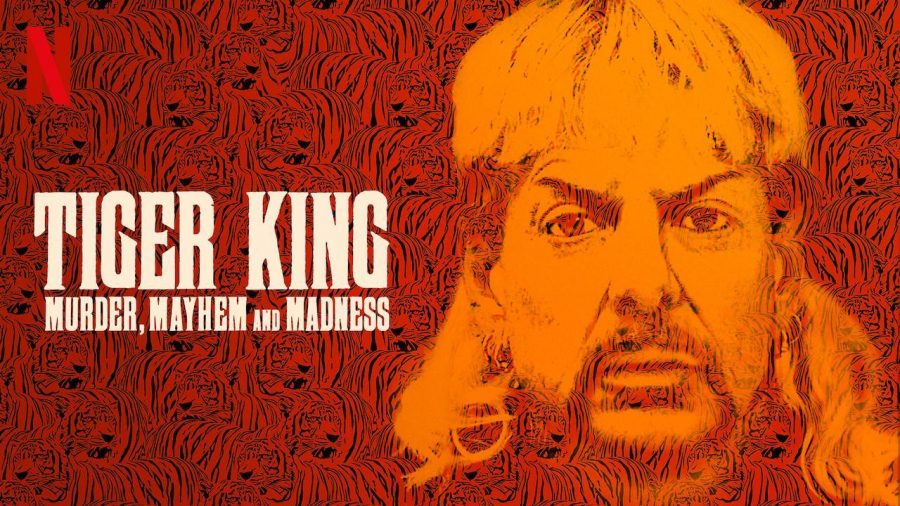 Way out in the small town of Wynnewood, Oklahoma, there once was a zoo that housed exotic animals from around the world and allowed people from far and wide to come and interact with them.
This place was the Greater Wynnewood Exotic Animal Park (G.W. Zoo) and its founder, like his animals, was anything but ordinary. The combination of his insane and polarizing personality with the madness that occured during his time as the founder made for the current top show on Netflix: "Tiger King: Murder, Mayhem, and Madness."
Directed by Rebecca Chaiklin and Eric Goode over a 5-year period, "Tiger King" follows the real story of several people involved in the business of big cats, but mainly focuses on a man named Joe Exotic, the founder of the G.W. Zoo.
His zoo houses over 200 big cats such as tigers, lions, pumas, ligers (male lion breeding with a female tiger), and tions (male tiger breeding with a female lion). He has a personal connection with all of his big cats and is a very eccentric man himself, as he is a self-described "gay, gun-toting cowboy with a mullet." 
He makes sure that all of the patrons to his zoo get an up-close and personal experience with younger cubs in order to build a stronger connection between his patrons and animals. He loves all of his employees and patrons, but there is one person he hates more than anyone else in the world: Carole Baskin.
Carole Baskin is the CEO of Tampa animal sanctuary Big Cat Rescue. She is at the front lines of the fight to free these big cats from their captivity in zoos and safaris in order to let them live in a wide-open, roaming space at her animal sanctuary.
She and Joe have very different viewpoints on this issue and caused a feud to break out between them, starting with Carole calling Joe's animal park a "trashy roadside zoo" and setting up a 911 animal abuse site where she put Joe's name on there and other things he would not agree with. 
From there, things only continued to get uglier and uglier between them. This ranged from Joe's outspoken hatred for her pouring out into his daily web show "JoeExoticTV" to Carole having to conceal a dark secret from her past that would discredit her entire operation and her as a person. It is also no secret that at some point during their feud, Joe Exotic was sentenced to jail time as throughout the episodes various prison phone calls from him are played alluding to that fact.
The episodes keep building up to that point in the story through multiple flash-forwards and flashbacks detailing the downward spiral into madness that got him there. Also, keep in mind when watching this show that all of these events are what really happened, which should boost how bizarre this seems.
Overall, this show feels like it is not a real story, yet it is. Everything about it feels exaggerated and bizarre beyond comparison, but it simply highlights a side of the world that few people have seen.
As you delve deeper into this series, the colorful cast of exotics that show up will blow your mind with the more the filmmakers uncover aspects of their lifestyle, business operations, and rumors that encompass each one of these unique people.
If you are interested in jumping headfirst into the exotic world of big cat enthusiasts, you should definitely check out this new most popular show on Netflix.
About the staffer
Ethan Babicz, staff writer
Ethan Babicz is a staff writer and this is his first year on the team. He has never broken a bone in his entire life; in his free time, he likes to watch football or baseball games (mainly Bears and Cubs respectively) and play video games like "Minecraft" or "Grand Theft Auto V."