The successful STUCO drive-in movie
The rumbling of engines, harmonizing together. The flickering of headlights galore, lighting up the night sky. Crackling gravel, the sound of unity.
On Oct. 12, Huntley High School's very own Student Council hosted a drive-in movie night at the McHenry Outdoor Theatre. 
The council sponsored this event in hopes to raise donations for future events and in an effort to bring the community together in these unknown circumstances. 
Issuing precautions at the event were of the utmost importance to the council to ensure the safety of all those that attended the event. 
The council took great pride in holding this as their first event of the year and made sure to bring attention to the event on their social media platforms, to assure the turnout was well. 
"For this event, Student Council took on many ways to promote it, such as posting on our 'huntley_stuco' Instagram page, which led to people reposting it to let others know," Junior Class representative and member of Student Council, Serefina Druetta said. 
"I was very satisfied with the turnout, and hoped that people enjoyed the movie as well!" Druetta said.
Upon entrance, each guest was greeted by a smile and an acknowledgment for their attendance by a STUCO member. Attendees were also informed of the radio station, 89.9, to which they should tune-in for the audio of the movie, whereas the picture itself would be projected onto the screen.
Instead of having to pay for admission, the council decided that admission would be a monetary donation of choosing, making it an easier and faster process to enter the drive-in.
After passing the booth for admission, attendees were directed to park their car in any slot of their choosing, with maintaining social distancing guidelines with one car per slot. 
With motion sensored lighting, guests had easy access to concessions and bathrooms at any time. With COVID-19, all those of attendance were asked to wear masks anytime they were to be exiting their vehicles.
The gates were opened at 6:15 and the movie was estimated to start between 7-7:30. Although, the majority of people arrived around 6:30 to ensure the perfect spot for viewing and access to concessions before-hand.
Upon vote of the Student Council, the film chosen to be played was "Hotel Transylvania". This 2012 computer- animated comedy film was the perfect selection for viewers of all ages to enjoy.
Overall, the event's turnout was more than expected. Families from all across the area were as excited as the council to attend and ultimately have a great night!
"I really loved being able to get out of the house and enjoy a night with my kids, while being safe," attendee of the drive-in, Mike Koertgen said.
"It was nice to see people from the community out and about and it was a really well-planned night. We had a good time!" Koertgen said.
The McHenry movie drive-in is the perfect destination for all families, looking to sit back, relax, and really, just have a great time.
Make sure to check out the Huntley STUCO Instagram page for more information about their next events!
About the staffer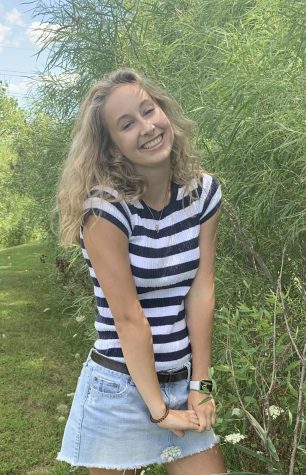 Brooke Hamann, Staff Writer
Brooke Hamann is a marketing manager and it is her second year on staff. Her favorite word is gucci and she pretty much laughs at everything everyone says so there's never a dull moment. In her free time, Brooke continues to be unsucessful with 'that's what she said jokes' and enjoys binging Netflix shows with family.