Huntley's indoor farmer market bustles with life despite Coronavirus setbacks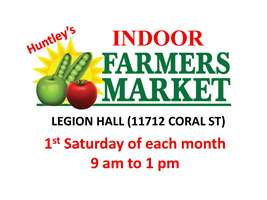 The smell of freshly baked goods and the sound of muffled chatter and laughter greet you as you walk in through the open Legion Hall's doors. On both sides of the room, vendors sit behind tables of their product, masks on while surveying the room, waiting for their next customer. 
Huntley's Indoor Farmers Markets have finally begun to start back up with safety procedures in place due to the Coronavirus pandemic. 
"Everything we handle now has to be individually packaged and we aren't really able to do samples," bakery owner Corinna Sac said. 
Huntley also has been requiring a mask mandate for the market. 
"For people who aren't wearing masks, we're a little wary, but if we see someone coming up to us and wearing a mask we're more welcoming about it," owner of Big Little Brittle Lynne Sigman said. 
Small business owners were given the option to be inside or outside, and there were many outdoor vendors on the street outside the Legion Hall as well. For some of the vendors, this feels like a safer option. 
Despite the many hindrances, Huntley's small business community still feels very welcoming and safe, and they are happy to get back to doing what they love. The markets have also been doing very well, despite the circumstances. The atmosphere still seems alive and jubilant.
"We've had a really great year so far, and Huntley has been really supportive about it," Sac said. 
Huntley's Indoor Farmers Markets are open Saturdays from 9 a.m to 1 p.m at the Huntley Legion Hall at 11712 Coral St.