Finding fulfillment through dance
Waking up early on a brisk morning, going on the school bus, and driving to dance competitions is what many people on the dance team did prior to COVID-19.
One dancer, Shannon Bleile, has been dancing her whole life. She started when she was 3 years old and has tried many different types of dance. Over the years, she has discovered her favorite genres to be hip hop and jazz. Bleile mentioned that hip hop is a way to express herself and show her emotions through the movements she makes.
Although Bleile is not the only dancer in her family, her older sister used to be on the dance team at HHS last year before she graduated. Her sister had the same passion to dance from a young age, which contributes to the fact that they are a dance family.
In addition to Bleile and her sister, her mother and grandmother were also dancers in high school. It is a generational thing that explains her mother's involvement in the Raiders dance team. Just last year, she was the volunteer and trophy chair along with other responsibilities.
The Bleile's have always called the dance team home. Bleile was also heavily involved in the team even before she had the opportunity to join in high school. She went to all of her sister's meets along with her mom. She stayed all day to watch the teams perform their different routines, which made joining dance in high school a very smooth transition.
Besides dance, Bleile has been doing other activities to help stay active during this COVID-19 season. She has been a nanny to three elementary school kids during the day. She usually goes to work from 7 a.m. to 2:30 p.m. on school days, where she helps the kids and then does her own schoolwork. After, Bleile goes to dance practice.
"I don't really have any free time and it's tiring, but it's worth it," Bleile said.
Bleile found new job opportunities due to the Coronavirus and took them. In the same way, dancing was affected drastically due to the Coronavirus. The dance season itself was pushed back due to the virus, along with officials figuring out the number of contact days the dance teams are allowed to use.
In the summer, practices were on and off due to the number of cases nearby. Now, the team seems to be able to practice but getting the freshmen introduced to the team has still been hard. Team bonding practices have still been used, and it is clear that the coaches truly want to make the team feel like a family.
Despite these troubles, the dance team is participating in a virtual competition on Saturday. They will pre-record their routine this week and then on Saturday, the families will watch them live as the officials judge the different routines.
Overall, they are trying to make the most of this season, and dancing has meant a lot to the Bleile family. Going to the dance competitions has become a family tradition for them, and having both sisters on the team has been a fulfilling experience for everyone.
Bleile dreamed of being on the dance team her whole life and loves the feeling of accomplishment when doing her routines in competitions. Dancing has helped her be more confident and given her the opportunity to make more friends.
"I had always wanted to be on the dance team. That was always my main goal […] making that come true has been so exciting!" Bleile said.
About the staffer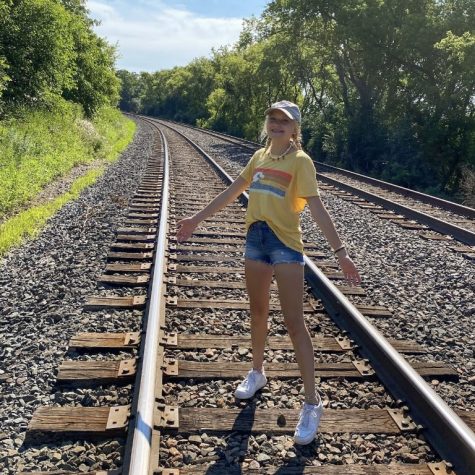 Arianna Joob, Social Media Editor
Arianna Joob is a staff writer and it is her first year on staff. Her parents were both born in other states, so her family frequently travels around the U.S. In her free time, she likes running, biking, and spending time with friends.