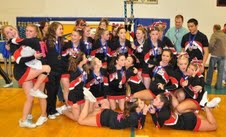 As their competition season comes to a close, Huntley High School cheerleading placed 11 out of 17 schools at sectionals on Saturday, Jan. 28 at Belvidere High School.
They are very proud of their improvement from last year when they placed 14 out of 19 schools.
"We are both happy with where we placed because it is always good to move up," said Nathan Schmitt. "But at the same time, we were hoping to place higher."
When the team arrived, they went to their assigned room and bonded as a team. They listened to music and enjoyed each others presence for a few hours before the last time they would compete together as a team. Then, they were escorted to an area where they had time to warm up and later performed for the judges.
"I thought we did pretty well in comparison to other performances," said sophomore Stephanie Newman. "We've improved greatly as a team."
Overall, it was a very difficult sectional with tough competition from other schools. The team was disappointed because they dropped a few of their opening stunts. However, removing the deductions alone would have left the team placing 7.
"I was proud of the team for how well they bounced back for the rest of the routine," said Schmitt.
Being the last competition of the year, there was sadness from many of the seniors and their close friends.
"It didn't really hit them until awards when they realized that they wouldn't get to go to state," said Newman. "Still, they reacted in a good way and made the most of it."
Fortunately, the end of competition season does not mean the end of cheer. There are multiple games left where the team will have more opportunities to cheer together and show off their routines that they having been working hard on all year.