Red Raiders football shuts out Burlington Central 35-0
Heading into Friday night's game against Burlington Central, head coach Matt Zimolzak had only one goal for his team – to play an entire game. 
"Our mindset was to play four quarters of football and compete for a whole game this time," Zimolzak said.
The Red Raiders did just that. The team was working on all cylinders as the offense scored five touchdowns while the defense kept Burlington Central out of the end-zone. 
On its first possession, senior Alex Janke escaped a number of would-be tackles on his way to an electrifying 40-yard touchdown run to give Huntley a 7-0 lead. 
Janke was looking forward to facing his old team and had one mindset approaching the game: to destroy. He did just that, adding a second touchdown in the third quarter of 64 yards as he sprinted down the field.
At halftime, the Red Raiders led 14-0. They stayed hot in the second half by scoring an additional 21 points. Ryder Hunkins, Bruno Bosman, and Christian Brown each scored touchdowns for HHS.
Raider Nation is still in full swing despite the COVID-19 restrictions. The student section was small but mighty. There were still cheers and excitement coming from the students. 
The stands were nowhere near as full as they would be. However, family and friends of the players were not going to let this take a toll on the Raiders. 
The concessions were closed due to COVID-19 restrictions. There was no smell of popcorn or hotdogs. There was no pizza or candy. This is different for the Raiders. The concessions make a killing at the football games. There was also no spirit wear to be bought. No sweatshirts, no shirts, no pants, no hats. 
Defense was led by a defensive line and backfield that never allowed Burlington Central's offense to get going. The strong defense helped lead the Red Raiders to a 35-0 win over conference foe Burlington Central. Coach Zimolzak was very happy with his team's performance. 
"I thought they played really well. I thought they played a lot better than they did last week," Zimolzak said. "I think we are still making some mistakes but we will get those polished up and be better next week." 
The Red Raiders travel to McHenry on April 1 to play the Warriors.
About the staffer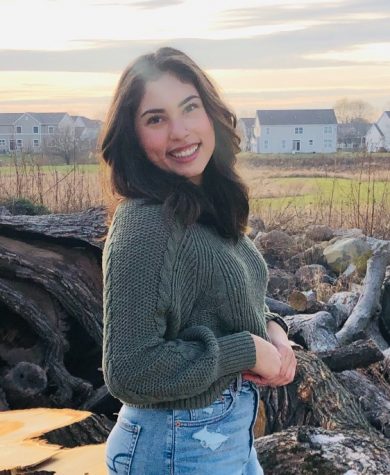 Luma Acevedo, Staff Writer
Luma Acevedo is a first year staff writer. She plays club and school volleyball. In her free time, she enjoys working out and reading.