Olivia Rodrigo makes history with debut album "SOUR"
Disney channel actress Olivia Rodrigo shocked the world with her debut single "drivers license." Previously known for her role of Nini in "High School Musical: The Musical: The Series," Rodrigo's musical talents were no secret; however, nothing could prepare the internet for the storm "drivers license" would bring.
After going viral on TikTok, this heartbreaking song flew to the top of the Billboard Hot 100 and charted number one for eight weeks. At the time, Rodrigo was working on producing "SOUR" as an EP but after the undeniable success of her first single, Rodrigo decided to expand it into a full album and partnered with Dan Nigro as her main producer.
Before the release of the full album, Rodrigo dropped two more singles, "deja vu" and "good 4 u," both of which also found success on the Billboard Hot 100. With this, "SOUR" was the first debut album to include two top-charting singles from the Billboard Hot 100. 
All of this success set the expectations unbelievably high for "SOUR," yet it did not disappoint. Despite it only being 35 minutes long with 11 songs, the impact it has had during its first week is larger than anyone could have imagined. 
The anticipation was almost tangible the hours leading up to its release, and the days that followed were like a global phenomenon of everyone collectively listening to and discussing the album over social media.
It did not take long for Rodrigo to become a trending topic and a week later, fans are still buzzing. All 11 songs from the album are currently charting in the top 20 on Apple's Global Top 100 list with four out of the top five songs being Rodrigo's.
"SOUR" features a range of different genres, appealing to a wide audience, with tracks that truly convey powerful emotions like heartbreak, bitterness, and closure. 
Some grittier songs with an alternative influence like "brutal," "good 4 u," and "jealousy, jealousy" show the frustration many feel as teenagers. From classic adolescent insecurities to petty anger, Rodrigo de-stigmatizes 'female rage,' which is often looked down upon.
On the flip side, there are many ballads such as "traitor," "favorite crime," and "enough for you" that, while mellow, pack an emotional punch for anyone who has ever felt wronged in a relationship.
Another notable track is "1 step forward, 3 steps back" which highlights the iconic writing duo Taylor Swift and Jack Antonoff in the song credits. This stripped back song clearly takes inspiration from folk music and illustrates the internal struggles of being in a toxic relationship. 
While it is no secret that Rodrigo is a huge Swiftie, her relationship with the female icon has only grown since the release of "drivers license." Fans of both artists were elated to see the collaboration. 
Rodrigo's lyricism tells a careful story that anyone can relate to, bridging the gap between gen z and millennials as people of all ages, genders, and backgrounds have found solace in such a polarizing debut album.
Having already broken countless records, Rodrigo is expected to have a long, successful career and hopefully some future Grammy nominations.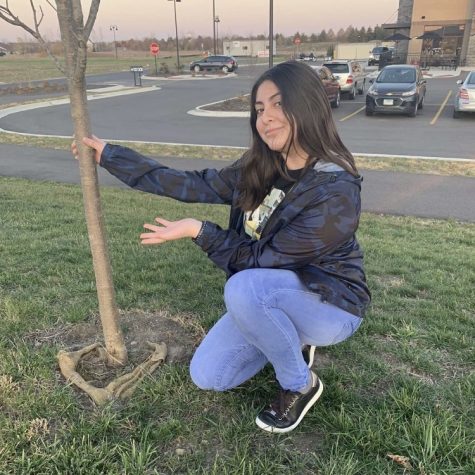 Kate Alvarado, Editor in Chief
Kate Alvarado is the Co-Editor in Chief of the Voice during her 3rd year on staff. In her free time, Kate enjoys debating film theories with her brother, watching true crime videos with her sister, and drinking boba with her friends. Kate is also a 3rd-year choreographer for Orchesis and was newly promoted to "the fun aunt".

ENFP-T