Huntley's fastest runner: Freshman Tommy Nitz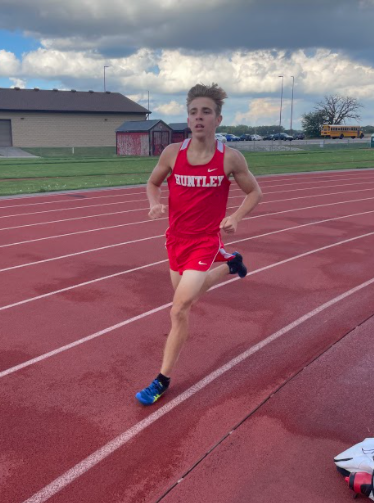 Following the loud bang of the gun, a crowded group of boys took off for yet another cross country race. For the Huntley boys, Tommy Nitz would be the first to finish once again. He is Huntley's fastest runner, and he is only a freshman. 
Although his outstanding performances were shown during his races, most of his work was put in before the gun went off.
"I put in a lot of work over the summer and last year when I was on my own," Nitz said. His dedication to running during the off-season and during the virtual eighth-grade season at Heineman Middle School has helped him earn his top spot. 
"It has been a big goal of mine," Nitz said. "It makes me work harder, and it pushes me to my limits."
Nitz's hard work, both in and out of season, has helped improve the boys cross country program. His capabilities are improving the team's results along with motivating his teammates.
"From a team perspective, being able to run in the top seven on the varsity team as a freshman brings everyone confidence," assistant cross country coach Jason Monson said. 
Every day, his performances continue to inspire the team, and he is proving that even freshmen can have a big influence on the team.
"It shows that even if you are a freshman, you can impact at any level on the team," cross country coach Matt Kaplan said. "He's having a very big impact at our highest level."
Nitz ran with the high school team many summers before his freshman year. His capabilities stood out to the coaches even as a middle schooler. 
"Tommy ran with us for a few summers as well so he is somebody that we have always known has that ability. It is hard to say any freshman is going to be able to jump into the varsity team right away, but we definitely knew that there was potential," Monson said. 
As the team moves into the postseason, Nitz will continue to play an important role in scoring for the team, but his contributions will not end there. He will still have three years left of his high school career to continue making an impact. 
"Already as a freshman he has been hitting some very good accomplishments, and we have three more years together to keep building on that. He is only going to get better," Kaplan said. "Competitiveness and a willingness to take risks are what will help him or anyone that wants to improve in anything that they do. That is what is best about watching him compete."