Vida de Vault
Kean Fialek's Journey in the World of Pole Vaulting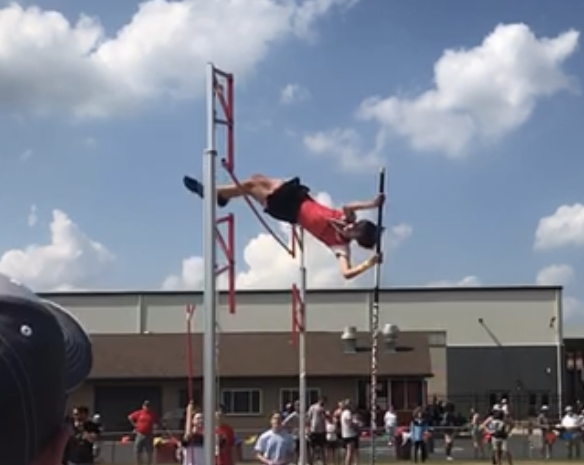 The sun beats down relentlessly on Red Raider Stadium, spectators sprout umbrellas in a desperate search for comfort on the scorched earth. With his feet numb from heat and his head pounding, Kean Fialek swallows his nerves and takes his steps on the burning rubber, preparing for his Pole Vaulting event at the 2021 IHSA Track & Field Sectionals.
The height marked for him to clear was a daunting 12 feet 8.125 inches. As Fialek took a step back and began his stride he couldn't help but think of how far he had come in the sport.
The senior was only 12-years-old when he began his vaulting career. Fialek's young mind was drawn to the difficulty of the ancient competition, and his passion for competition nurtured a love for the event that remains today.
"There's a feeling when you're vaulting that's hard to capture with words. It is one of the only things that truly makes me feel free," Fialek said.
Fialek's passion was paired with a tireless work ethic as he continued to improve his abilities throughout his young career. Clearing jumps as high as 9 feet 8 inches entering highschool. Fialek's drive and undying desire to develop his abilities was noticed by his brother Tyler.
"He's always had so much passion for vaulting. His dedication to it really shows how deeply he loves to vault," Tyler Fialek said.
Amidst his sophomore year Fialek furthered his investment in vaulting by joining Polebenders Vault Club in Waukesha, Wisconsin. Fialek received irreplaceable training and experience in his time with PVC, competing in several USA Track & Field meets, where he could jump with the top vaulting athletes in the country.
The COVID-19 Pandemic devastated Fialek's dreams and commitments to vaulting. Gyms where he could practice his craft were desolate and restricted from entry, and his mental health began to endure the consequences. Fialek's mother Marjorie noted her son's pandemic related stress.
"He takes so much pride in vaulting, when he was unable to compete you could just feel some of the joy leave him," Marjorie Fialek said.
The young vaulter's woes would not last however, as competition began to reestablish itself his junior year. That season would prove to be his most impressive, his improvement was at a jaw dropping pace. His crown jewel season was capped off with the Bill Jackson IHSA Sectional in Huntley.
Waves of heat danced through the air as he prepared for his jump, a PR of almost a foot if cleared, at the end of season meet. Fialek picked up speed flying down the runway, with every step he became more numb from the blistering sun. Striking down his pole, Fialek took flight. He relished the short seconds of freedom that he lived every day to experience, as he floated down to the pad joy spread through his body. He had just broken his PR by almost a foot.