HHS musicians are no second fiddle
The board of education recognizes students participating in ILMEA and their outstanding musical talent.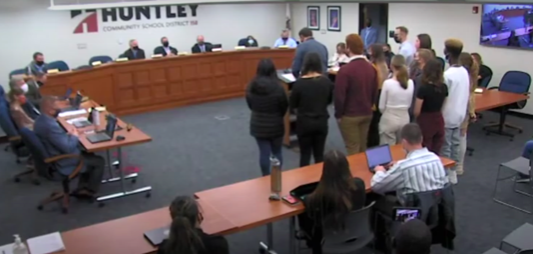 Huntley High School operates many musical branches, giving a wide variety to students interested in music. The Illinois Music Education Association is a big advocate for a wide range of valuable music education. Students from all over the state auditioned in districts. Huntley is a part of district 9.
This includes all schools in Kane, Dupage, parts of Mchenry, Cook, and Will county. Roughly 1,000 students participated in auditions and only 400 would place into the District 9 choir and orchestra.
"I'm proud to announce that Kendall Elrod, Drew Helinsk, Kimberly Bjurstom, Zach Ulmer, and Serafina Druetta, were selected from Huntley High School," choir director Alexandria Taxon said.
These students have been asked to perform in the District 9 festival in Peoria, Illinois. Which is also the location for the Illinois Music Education Conference, where they will compete in January. There will be 5 students selected, all of which qualify for state. They will compete and attempt to place amongst the many in the state.
Multiple students have already achieved great success with music, such as Kendall Elrod, with his most popular song 'Sunrise' on Spotify reaching over 4 million plays. Kimberly Bjurstom has also been acknowledged. They have both placed in the Island the Icon Position contest and Kendall even placed first in the songwriter category for his composition.
"They will meet other student composers and participate in workshops with professional composers and artists," Taxon said.
ILMEA advocates for comprehensive and universal access to musical education. They reach to professionally teach all musical students and support them to their fullest potential. Here at the high school, the fine arts academy strives to achieve these same goals, which is why ILMEA is important to many music students and teachers. To perform and compete in ILMEA and IMEC can further push students to launch their music career.
The Board of Education, during this meeting, decided to recognize the accomplishment amongst the student body. Allowing for these students to compete and contribute financially in the arts program has immensely grown the students' involvement and recognition.
"We would not be able to expose the students to high quality music opportunities without the support of the District 158 School Board, district administration, and high school administration," orchestra teacher Jeff Rollins said. "Thank you for your advocacy in the fine arts and thank you for your tremendous support in the music programs in our schools. Thank you for believing in these students."