Sisters by chance, teammates by choice!
Sisters Alex and Dominique Johnson create a teammate bond through sports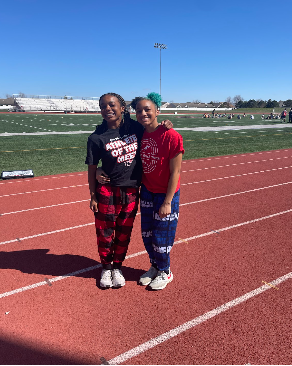 Living in the South, track and field quickly became a part of the Johnson sisters' lives. Junior Alex Johnson and freshman Dominique Johnson have been doing the sport since a young age. 
"I think what really got me started was the fact that our elementary school had a track team," Dominique said. "It has been a big part of my life for as long as I can remember." 
According to Alex, it was her dad who got her started in the sport, along with the fact that sports were big in the South.
Since they started their careers, Alex has competed at the outdoor state championships and won, taking 1st in the long jump and 6th in the 100 meter. At Top Times, she placed in the top six in four different events. Since Dominique is a freshman, she's only competed at Top Times, but placed in the top 4 in four different events. Dominique also competed at state in 6th grade in the 200M and in 8th grade for the long jump.
The saying, "sharing is caring", applies to the sister duo as they compete in the same events, creating some competition between the two. At Top Times, Dominique took 1st in the triple jump, with Alex following in 2nd. The friendly competition only pushes and motivates each other to do better. 
"Dominique is one of the people I consider my biggest competition, but she is an athlete I admire," Alex said. "And just as much as she helps me improve, I try to help her."
Being an athlete has allowed the girls to create strong connections with their coaches. One of the Johnsons' coaches, Jennifer Garza, has worked with them since middle school. Their talent was already obvious to her and other coaches. Being able to work with the Johnson sisters has been enjoyable and easy for her due to the respect they have and how hard-working they are. 
"They make me laugh; their sense of humor and smiles are contagious," Garza said.
The sport is never always easy for the sisters. According to Dominique, the sport is like a mental game that takes practice when it comes to learning a new event and developing skills. It is also easy to feel like there is pressure to do well. However, they have only become stronger as athletes, but also better people.
"Track has given me confidence and confirmation that I have something that will take me places in the future," Dominique said. 
At Huntley High School, both of the girls have found the team to be like a family. The girls are with their team right after school for 2 hours, 5 days a week. The team is quite a tight-knit group. 
"The people I've met are 100% the best part of being on the HHS team," Alex said. "The girls on this team, without even knowing it, have gotten me through a lot."
The track and field team at Huntley pushes the athletes to set goals for themselves. Alex hopes to take home another championship title in the triple and long jump. She hopes to hit 41 feet in the triple, something she never thought was possible for her. Dominique also wants to bring home a championship title, along with making her goal 41 feet in the triple jump and 18.20 in the long jump. In the long run for Dominique, she hopes to do track and field in college and get a scholarship. 
"I hope that they both follow their events into college and continue to perform at the highest level they can achieve, even the Olympics perhaps," Garza said. "I feel that they would both be wonderful role models to the younger athletes on their teams and can inspire females in the track and field program."
While Dominique's career with Huntley is just beginning, Alex starts her senior season next year. She loves the diversity the sport comes with and how the team is full of people who excel in different events, trying to reach the same goal. Alex hopes she is able to leave behind the biggest legacy she can at Huntley.
"I want to be someone that people think about when they think of track and field," Alex said. "This is my passion, and I want to be remembered for it even when I'm gone."