Schoology is just new to everyone
A new learning management system helps teachers send out assignments and connect with students.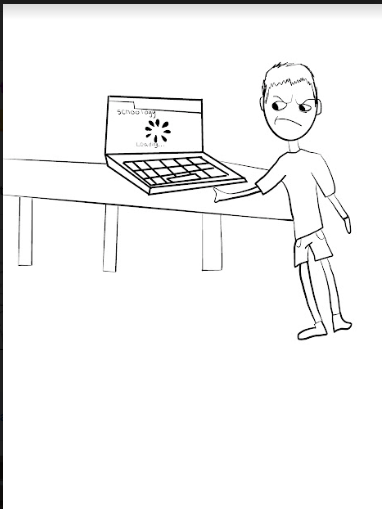 The luminescent light hanging above your head shines blindingly as you open up your Chromebook to begin your assignments. You click on Schoology and immediately get lost in the folders, open tabs and different assignments. You look around and you can tell every student is feeling just as lost as you are. The teacher doesn't notice and keeps clicking through all the folders until she stops on the assignment for today. You look around once again and see every student scavenging for the right document and ending up in a different folder or on a different assignment.
Schoology is a web-based learning management system for schools to create and post assignments for students.  It includes assignments, exams, grades and many other educational tools. Lately, many students and teachers have been having trouble working with Schoology.
"It is definitely a learning platform. It can do most of the things that PowerSchool did before, that Haiku did before. It's just different," said science teacher Hunter Labas.
Schoology is new to many of us and may be confusing to navigate, especially for teachers when they want to post assignments, quizzes, tests and other documents. Every teacher had to learn the new platform in only a couple of months and they're still learning to navigate it to this day.
"It is something new to learn and I feel we weren't given time to learn a lot of it. We're still figuring out a lot of it. I feel like there are more steps involved for putting grades in as well, because there's a lot of thinking, and sometimes this thinking doesn't work. So it's[assignments] in Schoology, but it's[assignments] not in PowerSchool and then figuring all that out is a lot of time," said science teacher Silvana Younan-Shawil.
Teachers and students have mixed feelings about Schoology. Some say they like the new program while others say they think it's a bit confusing and complicated.
"It's a change from what we used to have. We had Haiku and Google Classroom for so long so changing everything in one year is probably difficult," said sophomore Ashlyn Palms.
Schoology is just new to everyone and has many features that can be useful if used correctly. Teachers are still being trained and taught on how to use it and help the students with steering through all the folders and documents. If we all help each other through the learning process, it'll be much easier to find all assignments quicker and easier.