Pokémon fans left disappointed
The latest editions in the Pokémon franchise have left many fans displeased with the lack of effort put into the games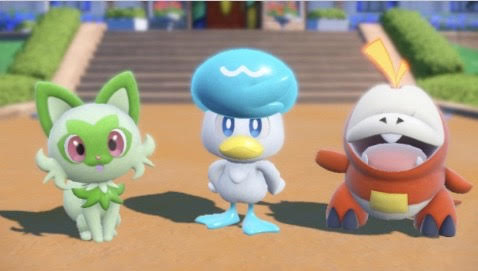 For the past 26 years, Nintendo and Game Freak have been releasing pokémon games for their growing fanbase and 2022 is no exception. On Nov. 18, Pokémon Scarlet and Pokémon Violet were released, showing all Pokémon fans the new Paldea region.
At the beginning of the game, the player is introduced to the new region through a video tour of the landscapes and the new academy they will be playing through. Once the video is watched the player then meets their starter Pokémon, having a choice of either Sprigatitio, Fuecoco, or Quaxly.
Despite the overwhelming excitement for the new games, many Pokémon fans are still disappointed by Game Freaks' effort.
With the last two generations of Pokémon games, many fans point out the laziness that was put into game mechanics and animations. Some have even reported their games glitching out in the middle of game play.
In the more recent games, such as Pokémon Scarlet and Violet, players have reported many glitches including falling through the map, having their player model break, and even having Pokémon disappear for no reason. The lack of effort from Game Freak to fix these glitches has upset Pokémon fans for many years.
Not only are glitches a problem in more recent Pokémon games, but also the animations during battles.
For years players have voiced their opinion on battle animations with many saying how they dislike the lack of effort put into them. Many of these moves just have the Pokémon's base model move around and that's it.
For example, the move tail whip does not even show the Pokémon moving its tail, it simply just shows us the Pokémon's model flipping around and moving its back from side to side. What would make these games better is some fix-ups on the smaller details. Simply just adding smoother animations or better landscaping textures would add likability to the game.
Sadly due to the lack of response from Game Freak about the issues with recent Pokémon games many of the long-term fans have been giving up on the franchise. Numerous fans have stated how they are disappointed with the direction the Pokémon company has gone in and are hoping for change to happen.
Overall, the general idea behind Pokémon Scarlet and Violet is interesting yet there are still many issues that need to be solved before the game is fully liked by the Pokémon community.