Dominant victory for the girls bowling team
Girls Varsity bowling takes on Geneva at Bowl Hi Lanes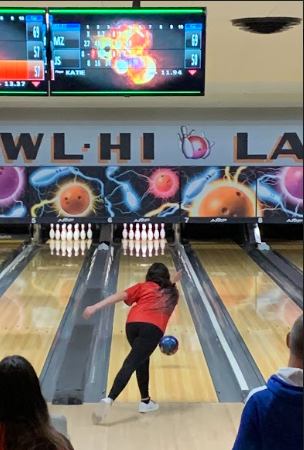 Everyone at Bowl Hi Lanes stares at Erica DeBello waiting to see what she will do. Everyone has one hand up because she only has one pin left. 
She rolls the ball down the lane and Boom! She gets the last pin and gets applause from her teammates and spectators.
On Dec. 7 the Huntley High School's girls bowling team went against Geneva's bowling team. Heading into the match their record was 2-2 and they won the Charger invite which took place on Dec. 3. 
Huntley won by over 500 with the final score being 2424-1880. At the end of the first game, Erica DeBello had 2 strikes to help the team out.
Erica DeBello bowled a 642 the day before against Dundee Crown.
"It gives us high hopes, something to look up to," said senior Jessica Roberts from the bowling team. 
For the people who have not watched a bowling match, it is a constant battle. Back and forth with girls in each lane bowling to help their team get the upper hand.
Coming down the stretch in the last frame what you do matters a lot. You could get three strikes in a row and take the upper hand against the other team, or not get a spare and lose out on many points. 
"We like to do little chants and give each other positive encouragement," Roberts said.
These things help create the environment that is around the girls and can only be seen in person.
"I like to cheer and being positive with teammates helps," DeBello said. 
The girls had three matches in a row with this being the third match. They won two out of the three matches. 
"We try to take it easy and not get too stressed out," Roberts said. 
The girls not getting too stressed out about the matches allows them to compete well even when having matches back to back. 
Bowling might not be the first thing people think of when they hear sport. People might think of baseball at first, but there are aspects that are just like baseball in bowling. 
"When you're down three [runs] in baseball and you need to hit a grand slam it's the same feeling as when you need to get a split or strike especially when you are the last bowler," DeBello said.
The girls had a great match against Geneva. They got to show off their impressive skill sets and how fun bowling can be.